Are you looking for a detailed guide on the Big Cash app? I know the answer is yes. This post is for you, my friend.

In this post, I am going to share how you can Big Cash app download, how to earn money with Big Cash app, and many more.
Earning real money playing your favorite games. Sounds cool, isn't it?
Years back people used to think, hope we can withdraw the cash earned on the game. On apps like Big Cash, you can do that. Yes, you have read that right.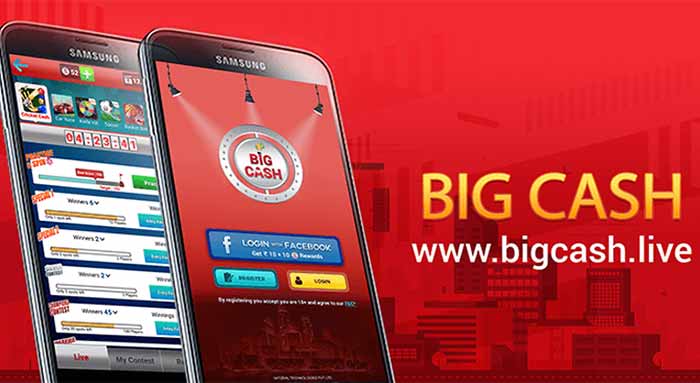 Yeah, really you can make real money by playing games. Even some people are making lakhs of rupees from these apps like MPL, BigCash, WinZO Gold, etc.
Today I am going to share a detailed guide about the Big Cash app. Big Cash APK download procedure is also given in this blog.
In this post, I have covered.
What is the Big Cash app?
How to download and install Big Cash?
How to sign up on Big Cash app?
What is the Big Cash refer and earn program? How to earn more with referrals.
Let's get started…
What is the Big Cash App?
Here are some Big Cash app details,
| | |
| --- | --- |
| App Name | Big Cash |
| Category | e-Sport (Gaming) |
| Sign Up Bonus | Rs.50 |
| Refer & Earn | Rs.30 + 25% Revenue share |
Big Cash is a new e-Sport gaming platform. Where any registered user can make money by playing games. There are many games (15+) available in Big Cash App.
You can choose from various games like Bulb Smash, Fruit Chop, Egg Toss, Basketball, Cricket, 8 Ball Pool, Fantasy Football, Fantasy Cricket, and many more. The Witzeal Technologies PVT. LTD is the owner of Big Cash.
There are more than 2 crores of happy gamers. I mean Big Cash, happy users.
As now they launched fantasy sports, now it is also known as the Big Cash fantasy app.
I have shared some best Ludo apps to earn money.
Winzo Gold App is another e-sport platform where you can earn money playing games..
How Do You Make Money on Big Cash?
Big Cash is an e-sport platform it allows users to make money playing games. You can make money playing games and through the referral program.
How Much Can You Make on Big Cash?
The simple answer is it varies from user to user. How much time you are giving to this app, how much you're investing in the app.
But to be honest you can't make a lot of money with these kinds of apps. Although some earn huge amounts.
If you want to earn a good amount of money from your phone you should try Meesho and Shop101.
Big Cash App Download
Big Cash APK is not available on Google Play Store. Play Store doesn't host such apps. So I will share the Big Cash app download link. Don't worry the link is official, it will not harm your device. Download the Big Cash latest version from the official site www bigcash live.
If you are an iPhone user, then you can Big Cash download from the App Store.
How to Sign Up On Big Cash & Get ₹50
Here are the steps to download Big Cash app and register on it. You will get Rs.50 just for signing up in the app.
Step 1 – First of all, tap on the below button and download the app.
Step 2 – Now tap on Download App & Get Rs.50 Bonus.
Step 3 – Tap on OK to download the app.
Step 4 – After downloading the app, tap on the Big Cash APK file.
Step 5 – Now go to your smartphone's Settings-Security-Enable Install From Unknown Source.
Step 6 – Then install the app carefully.
Step 7 – Open the app and click on Login with Facebook to get a Sign-Up bonus. You will get ₹50 for just signing up if you choose Facebook. Otherwise, you can also use your Google account to log in. In this case, you will not the bonus.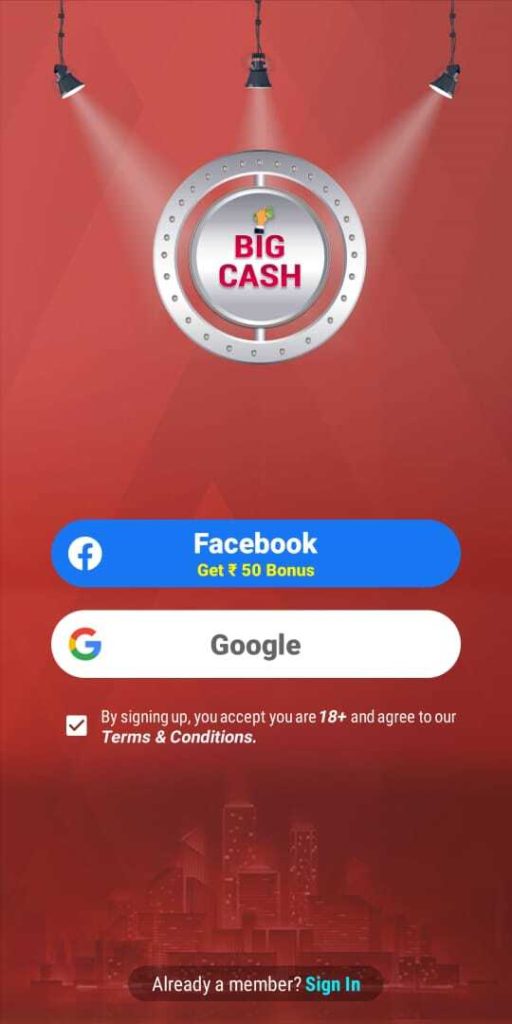 Step 8 – Once you logged in with Facebook, are a step ahead.
Step 9 – Now enter your Mobile Number and verify it by entering the OTP.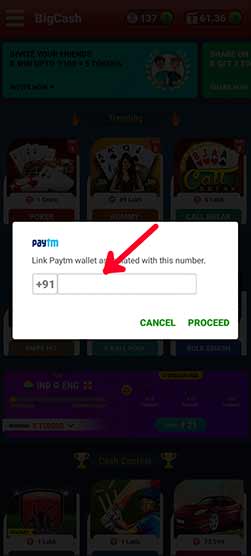 In total, you will get a ₹50 Sign Up bonus. Voila! You are done. Now you can play any games and earn money on Big Cash.
Want to earn money by playing Ludo, check out Ludo Supreme Gold.
How to Add Cash on Big Cash
Once you have used the signup bonus, you need to add money to your wallet to play games. Don't worry about the safety, they use a trusted payment gateway. Your money will be safe. There are multiple payment methods available.
Open the and login to Big Cash login details. If you are not logging in already. Tap on Menu.
Now tap on Add Cash.
Enter your desired amount. You have to add a minimum of Rs.20.
Then choose your preferred payment method. You can use Paytm as well as UPI to add cash.
Finally, make the payment.
Boom! You are done with adding cash.
Don't add a big amount of money. First, start with a small amount and learn it. You will end up losing your money.
How to Play Games on Big Cash
There are many exciting games available like Bulb Smush, Fruit Chop, and Fantasy Sports app.
Curious how to play games on the Big Cash live? It's easier than you think.
First, open the app.
You will find many games on the home page.
Choose your desired game. My favorite is Fruit Chop.
Play, enjoy and earn money.
Play games in the Big Cash game app and let me know your favorite game.
Ewar is a new e-Sport gaming app. You can check out this app.
Big Cash Refer and Earn
Big Cash has a referral program. With the refer and earn program, You will get ₹30 when your referee's first deposit. Not only that but you will also get a 25% revenue share on a winning game. On the revenue share, you can earn a maximum of ₹500.
Make sure that they log in with Facebook. Otherwise, you will not get any referral reward. So don't forget to tell them to log in with Facebook when you refer someone.
First, open the Big Cash and tap on Menu.
Now tap in Invite & Earn.
Then simply share your referral link on social media. ( WhatsApp, Facebook, Twitter, Telegram, etc.)
With the refer and earn program, you can earn free bonuses.
But the problem is not all people have a big contact list to refer to. Even if you have a big contact list, not all people on your contact list can do your referrals.

So what to do?
I am going to share some ways to share referral codes. So you can get more and more referrals.
Youtube: I know you use it daily. Video content is booming right now. Youtube is the boss of video content. So what you can do is, you can make videos around the Big Cash app and share your link in the description. I have seen many people are doing it. So what stops you to do so? Just do it. You even don't need to show your face.
Telegram Channel: Now Telegram is also becoming popular. The audience is there. You just to reach them. But how? Let me explain.
You can create a Telegram channel, about this kind of app. So you can also share other referral links as well.
You can combine both Youtube and Telegram. Give a telegram channel link in the Youtube video description so you can capture the audience.
Earn Paytm cash by completing simple tasks on Rozdhan App. Click here to read more about Rozdhan App.
How to Withdraw Money Winning Money from Big Cash
Now we are in the most important part, right. After earning some money you need to withdraw the money. You can withdraw the Big Cash wallet balance to Paytm or Bank account. You need at least ₹50 to withdraw the amount.
First of all, open the app and tap on Menu.
Now tap on Redeem.
Choose where you want to withdraw your earnings Paytm or Bank Account.
Then enter the amount you want to withdraw.
Enter Paytm number or UPI ID.
Finally, tap on Redeem.
Congrats! On your first withdrawal.
Read Also:
Big Cash Mod APK Download
There are many websites that are providing Big Cash Mod APK downloads. Not only websites but there are also some Youtube channels that provide mod APKs. Do you know that most of these mod APKs are fake? And those mods can harm your device seriously. Don't waste your time finding Big Cash hack APK download and mod APKs.
Play genuinely and real money from it. Honestly, it's more satisfying than earning from such illegal things.
Big Cash App Download for PC
Do you want to use Big Cash on your PC and look at Big Cash APK download for PC?
Yes, you can run any Android app on a PC with an emulator. I will suggest you install Bluestack software on your PC. Once you installed Bluestack, you can run any Android application on your PC (Windows and Mac). You can also use any other emulator, just Google for it and download any emulator.
Once you Install any emulator on your PC. Now download the Big Cash new version APK from the official site. I have shared the Big cash APK download latest version. You need to import the APK to the Emulator. Install the APK in the emulator.
Now register the app. Once you are registered you are ready to go. Use it as you use it on a smartphone.
Big Cash Pros & Cons
Now it's time to share some pros and cons. Here's my Big Cash app review.
Pros:
Sign Up bonus of Rs.50.
The minimum withdrawal is only Rs.20.
Good referral program.
Many games are available. Now you can also play fantasy sports.
Cons:
The app is not available in the Play Store.
General FAQs
Let's see some frequently asked questions.
What is the Big Cash?
Big Cash is an e-Sport platform in India. It allows users to play games and earn money from them.
How do I install the Big Cash app?
If you are an Android user, Just download the APK file from the above link. Install it on your device. For Apple Users, visit the App Store and search for it.
Is the Big Cash app real?
Is Big Cash app safe, Big Cash app real or fake, Is Big Cash app legit?
These or similar questions occur when a new app launches. And this is natural because there are so many fake free Paytm cash earning apps in the market. I have verified Big Cash App and found this app 100% legit.
Can I withdraw my Big Cash earnings to my Paytm wallet?
Yes, you can withdraw your earnings to your Paytm Wallet. I have already shared the method.
Can I use multiple accounts on the same device?
No, you can't use multiple accounts on the same device. If you take my opinion never try this because it can ban your account.
Is the Big Cash app safe?
Yup, my friend Big Cash App is really safe to use.
Who is the owner of big cash?
It is owned by Witzeal Technologies Private Limited.
Is Big Cash legal?
The app is legal, you can play and earn legally with this app. Many people think these kinds of apps are illegal. These apps fall under skill-based games.
How do I download the big cash App?
Head over to bigcash.live and download the APK if you are an Android user. And if you are an iOS user just go Apple App Store and install it.
Big Cash Customer Care
For some reason, you might need to contact customer support. You can check the customer care details.
Big Cash customer support at [email protected].
How to Delete a Big Cash Account
Want to delete your Big Cash account?
Yes, you can delete it by following some simple steps.
Let's see how?
First open your Mail that is registered with Big Cash.
Now compose a new mail.
Give a subject like Close My Account, Delete My Account, Request To Close My Account, etc. Just give any relevant subject.
Describe why you want to delete your account.
Send the mail to [email protected]
The support team will contact you and only they delete your account.
Conclusion
This is the detailed Big Cash review. I hope this post will help you to decide if it's a good app for you or not.
Overall Big Cash app is a good platform to earn money by playing games. I have used the app. Now they have upgraded many things on the app.
If you are looking for a legit and good money-earning app, you should definitely check the Big Cash app. The games are easy & fun to play. So you can earn money daily. I have tested and earned some bucks.
Many people think that they can earn lakhs of rupees from their smartphones so easily. I am not saying that you can't make that much. But it's not that easy, it takes a lot of work and patience to make a huge amount of money.
I will suggest you use this kind of app in your free time.
There's a risk of financial loss in this kind of cash contest app. Use this app if you 18+. Even the app itself suggests that you shall be 18 or above to use the app. Start with a small amount of money.
Happy Playing & Happy Earning…