Now people shop online like never before. Especially in the Diwali season, online sales go through the roof. Ecommerce sites like Amazon, Flipkart, and Myntra make a huge amount of money these days.
Do you believe me If I tell you that you can earn a piece of the amount from these sites?
Wondering how? The answer is by shopping through the CashKaro. After reading the post I am sure all doubts will be clear about CashKaro app.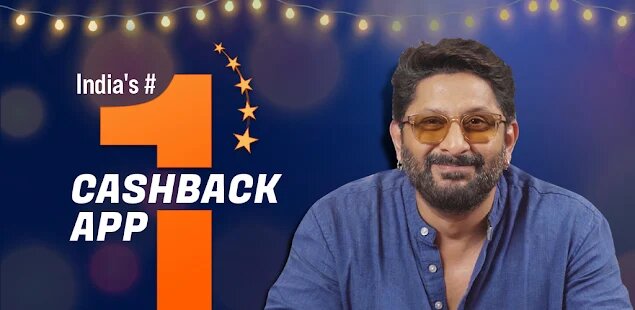 Yes, you are reading it right you can literally make money online through CashKaro. You can earn a commission every time you shop online. Easily you can save up money on online shopping with CashKaro app.
In this particular post, I am going to share what is CashKaro and how you can make it with CashKaro. Not only that, but I am going also to share details about CashKaro refer and earn program.
Lets' dive in…
CashKaro Registration Process
I am going to share step by step guide to register on CashKaro.
First of all, visit the CashKaro website from here. You can also download the CashKaro app.
Now enter your name, E-mail, mobile number, password, & captcha.
Accept the terms and conditions and Tap SIGN UP.
You will receive an OTP on the given mobile number, verify it by entering the OTP.
Now you are ready to earn cashback.
What is CashKaro
CashKaro is India's no.1 cashback and coupon website. They provide cashback and deals every time you shop through their website. It has 1500+ eCommerce sites available, so you can shop on 1500 sites including Amazon, Flipkart, Myntra, Ajio, etc.
In 2013 Rohan Bhargava & Swati Bhargava founded this amazing website called CashKaro. It was becoming popular day by day. And it become more popular in 2016 when Mr. Ratan Tata funded CashKaro. Till now they never looked back. With more than 5 million registered users now it is India's most popular website in this category.
Till now CashKaro has paid over 150 Crore as cashback to their users. Yeah, my friend, it's 100 crores.
CashKaro says
"Our vision is to be the easiest savings destination for shoppers."
CashKaro App Download
I use the CashKaro website rather than the app. But if you want to use the CashKaro app, you can download the app from Play Store. Cashkaro App is also available for iOS.
Cashkaro APK download can be done from Play Store.
Recently I have shared a similar platform GoPaisa. Check out GoPaisa and earn money every time you shop.
How to use CashKaro app to earn cashback
Now let's see how you can earn cashback on CashKaro. I am using CashKaro for a long time. I have earned cashback and redeemed it also. I know how amazing to earn cashback on online shopping. Now it's your turn.
There are 3 ways to earn cashback through CashKaro. 1. Refer and Earn, 2. Shopping Online Through CashKaro, & 3. Sharing Your Links With Others
CashKaro Refer & Earn
The CashKaro refer and earn program is very good. Invite your friends & earn 10% of their cashback. CashKaro referral code is not available, so you have to share the referral link.
Let me explain it.
Suppose you refer your friend and he/she shop for a product. He/she earns Rs.1,000 cashback for that particular product. You get Rs.100(10% of Rs.1,000).
If you refer 20 people you will get 20×100=Rs.2,000 cashback. The referral amount is fully withdrawable.
Shop Through CashKaro & Earn Cashback
After reading this whenever you buy something online make sure you buy through CashKaro. You'll get cashback and deals for qualified purchases.
Just visit their website or download the app.
Now look for the product you want.
Visit the retailer site like Amazon, Flipkart, Myntra Ajio, etc.
Buy your desired product. The cashback will be tracked and it will be reflected in your account.
Share Your Links With Others
It is not possible to buy products every day. Right?
But how if you share the links with others they buy the products and you got the fresh commission. Sounds good.
You need to capture the audience in order to earn more cashback. You can create a Telegram Channel, WhatsApp Group, Facebook Group, Youtube Channel to earn a huge amount of cashback.
I suggest you use a Telegram channel to do it. Because it's easy to do on Telegram.
Telegram Channel: Create a Telegram account if you haven't already. Now create a channel. Name it in a smart way like Best Deals, Loot Deals, Discount, Coupons, etc. If you name it this way people can find your channel when they search for a channel that posts deal every day.
WhatsApp Group: Similarly you can create a WhatsApp Group to promote your links. But the problem with WhatsApp is, people can't find your group without sharing.
Facebook Group: There are many buy & sell FB groups. You can share the links on those groups. Or you can create your own FB group to promote your links.
Want to earn money by playing games, check out WinZo Gold.
How To Shop Throught CashKaro
How To Redeem Cashback On CashKaro
The minimum withdrawable amount is Rs.250. You can earn that much easier if you keep sharing your links with others.
You can withdraw your earnings to your bank account. Or you can redeem your earnings as CashKaro Amazon or CashKaro Flipkart voucher.
First, log into your account with CashKaro login details.
Now tap My account.
Here you can see many options. Just tap on My Earnings.
Then withdraw your money. (You can redeem it to your Bank Account or Amazon/Flipkart voucher).
CashKaro Payment Proof
Here I have redeemed a cashback of Rs.255 as Amazon Gift Voucher.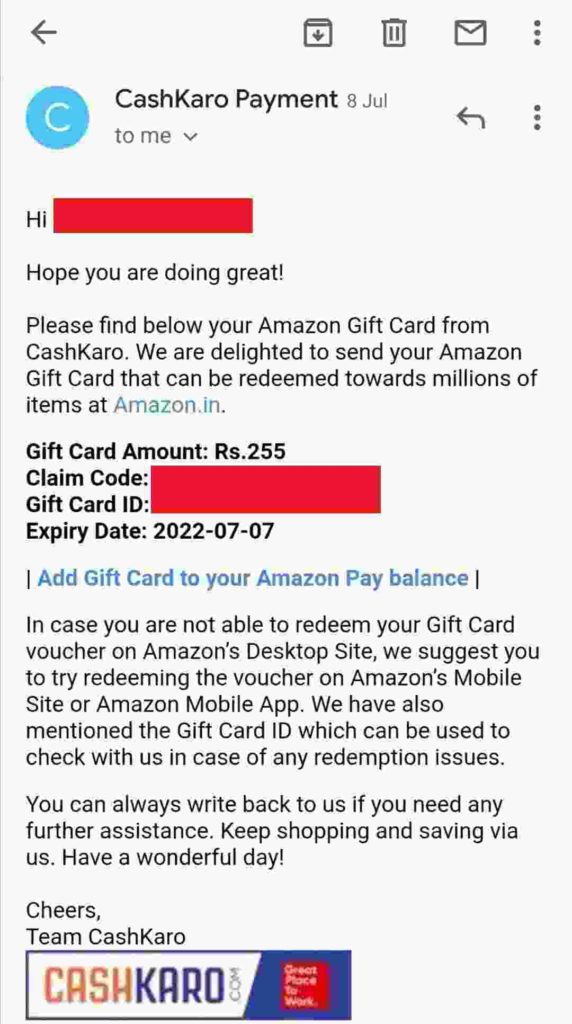 You can see above, the CashKaro Amazon gift card proof. Now I hope you are convinced to use the platform.
How To Shop Through CashKaro & Get Cashback
Now I am going to show how you can shop through CashKaro on Amazon, Flipkart, etc.
Just login to your CK account.
Now you can serch bar. Just search for your desired product.
Tap on the product and it will show the details like cashback, where to buy, etc.
Now choose your most suitable store Amazon, Flipkart, TataCliq, Reliance Digital, etc.
Tap on "Grab Deal". After that tap on "Visit Retailer".
Now it will redirect the store, where you have to buy the product.
Shop and the cashback will be tracked soon.
Once the cashback is confirmed, you can see it the CK.
General FAQ
How does CashKaro make money?
CashKaro is an affiliate of sites like Amazon, Flipkart, etc. When we shop through CK the site pays CK a commission per sale. From that commission, CK pays us a certain percentage. 
Is the CashKaro app safe?
The answer is a BIG YESSSS. CK is absoulutey safe to use.
Is CashKaro owned by Tata?
CK is backed by Ratan Tata. 
Who is the owner of CashKaro?
It is founded by Rohan Bhargava & Swati Bhargava.
Conclusion
The CashKaro app can save your money while online shopping. Not only that you can also earn money by sharing your links with others. Don't forget about CashKaro refer and earn program. With the program, you can make more extra money. And there's no referral code of CashKaro, you have to share the referral link.
There are many sites available on CK, you can choose from over 1500 sites to shop online.
Happy Shopping & Happy Earning..