Do you want to earn money for listening to music? I am not joking. You can literally make money for listening to your favorite music.
But how?
There's an app called Current Rewards. It is also called Mode Earn App for the android users. There are multiple ways to earn on this app.
In this post, I am going to share how you can make money with the Current Rewards app.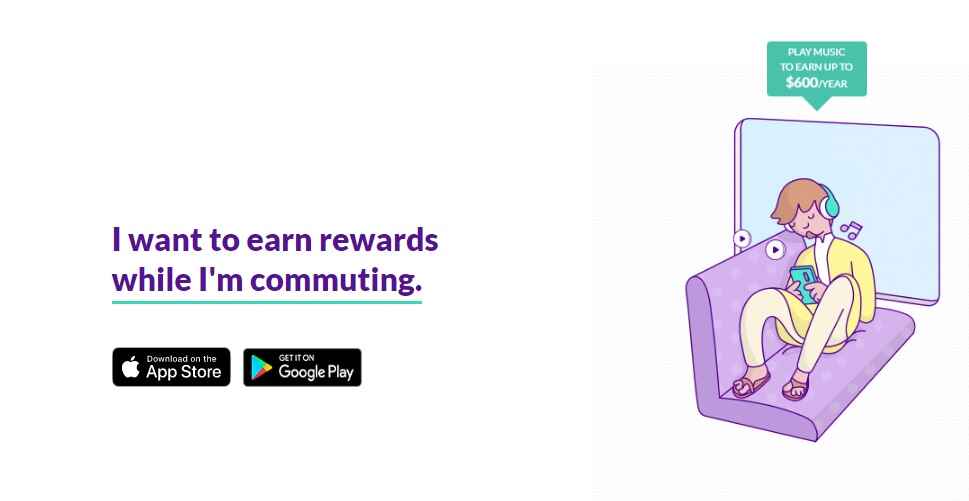 Now many people are finding methods to earn money. Today you got a way to earn money online through your smartphone.
It's a different kind of app, that pays you for listening to music.
Let's get started…
What Is The Current Rewards App?
Now you know that Current Rewards is a money-earning app. That pays you to earn money for doing simple tasks like listening to music, completing surveys, playing games, watching videos, etc.
It can play songs from 100,000+ Radio Stations.
You can also find attractive deals on the app.
The app has featured in Inc, CNBC, Fox Business, NBC, Bloomberg, Business Insider, Yahoo Finance, Cheddar, CGN TV, & many more.
Current Rewards App Download
The Current App is available on both iOS and Android.
How To Earn Money On Current Rewards
There are a bunch of ways to earn on the app. I am going to break down each one of them.
Current Rewards Refer and Earn
The Current Rewards referral program is quite fascinating. You will get up to 500 points when anyone joins through your Current Rewards referral link.
Not only this, but you will get 5% of your referee's music earnings.= for a lifetime.
Wait there's more referral reward.
You can earn up to $25 in points per friend. If your friend redeems $3 or more, you will get 3,500 points each time up to 10 redemptions.
Let's say you have referred this app to 10 friends, you can get up to $250.
Best eSports Platform:
Listen to Music & Earn
I know you listen to music. You will hardly find someone who doesn't listen to music. Even I am writing this post while listening to music.
With the Current Rewards app, you can earn up to $6 per week if you listen to music for 5-6 hours every day.
Weekly $1, if you listen 2-3 hours/per day.
Weekly $3, if you listen 4-5 hours/per day.
Weekly $6, if you listen 5-6 hours/per day.
I know the amount that you are getting is not much. But you are getting it without doing anything. You have to just listen to your favorite music.
Tried the app and listened to some songs and got the points.
I am sure that your current music player is not paying anything. If you are a song lover you should try this app.
Completing Surveys
You can earn 100 points for 1 minute of surveys. There are multiple surveys available. Don't think you can earn with all surveys.
First, you have to qualify for surveys. If you qualify for a particular survey and complete that survey, you will get the mentioned rewards.
Surveys really pay well.
Apart from all these are also some others ways to earn money through the Current Rewards.
Here are the ways.
Playing Games
Phone Charging
Watching Videos
How To Redeem Points On Current Rewards
There are many redemption options available. You can redeem the point to Paypal or you can redeem it as Bitcoin.
You can also get physical products like Airpods, Smartwatch, & Bluetooth Speaker.
I will show how you can redeem points as PayPal.
First tap on Redeem section.
Now choose "PayPal" from here.
Link my PayPal account.
Now login to your PayPal account. You can create a new PayPal account if you haven't already.
Your redemption will then be confirmed.
Some best crypto refer and earn programs.
Pros & Cons
Pros:
Genuine app.
Multiple ways available to earn.
Earn while doing other work.
Cons:
Paying too little for listenuing music in India.
Frequently Asked Questiones
Can I earn money for listening to music?
Yes, You can make real money by listening to music.
Is it possible to withdraw the money from my bank account?
Not directly but you can. Just withdraw the money to your Paypal account and then send the amount to your bank account.
How much can I make with this app?
You can make up to $600 a year with a rewards app.
Conclusion
Current Rewards app is well known for listening & earning. You can earn rewards by listening to music while doing some other work.
I have to say it's quite a good way to earn rewards. As you have to do nothing for it. But it's true that they are paying not that much for listening to music. Try to complete surveys to earn more. Although it takes a bit of time to complete them.
If you want to earn more, you can use other methods to earn more.