Want to earn money online while playing games. Then Fiewin is the app for you, my friend. In this post, I will tell you how to play Fiewin Game and earn Paytm money in it.
If you are playing games only for fun but earning nothing from them. Then change it already. You should start playing games on Fiewin. Though these games involve risks factor. So play at your own risk. But I will tell you how to reduce the risk in the Fiewin game.
Fiewin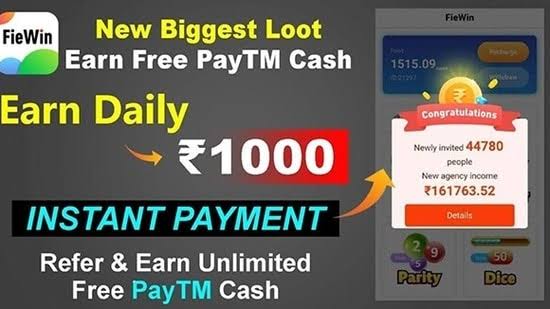 Fiewin is an app where you can earn Paytm money by playing prediction-based games or referring to your friends. It is a very popular app among the youth. It is competing with some of the popular gaming apps like Winzo App, Big Cash App, etc. And still, Fiewin has more than a million users. Click on the button below to enter the Fiewin website.
How To Play Fiewin Game And Earn Paytm Money?
So let me tell you Fiewin games are not similar to regular games. These games are prediction-based. The risk is always there in these types of games. So play carefully.
For now, there are a total of 6 games in the Fiewin app. These games are all different from each other. To play these games first you have to recharge in your Fiewin account. I will tell you how to play these games and what are the rules in them.
1. Firstly, to play Fiewin Game you have to visit the Fiewin website. Click on the button below to visit it.
2. Click on Register Button.
3. Then Sign Up on Fiewin or login if you already have an account.
4. Now you can play Fiewin Games but first you have to recharge in the Fiewin app.
5. To know how to recharge in Fiewin account. You can check this post: Steps For Fiewin Recharge.
So for now let's discuss these six Fiewin Games. To play these six games you have to add a minimum of ₹20 in it.
Fast Parity
Fast Parity is one of the popular games on the Fiewin app. It is color based prediction game. It contains three colors Green, Violet, and Red. You have to choose a color for it. You have a total of 30 seconds in it. 27 seconds to predict color and 3 seconds to show the result.
Minesweeper
It is also a prediction-based game. It is also an instant game. There are three ways to play this game. Firstly, there is a format of 2×2 which are 4 boxes. Secondly, there is a format of 4×4 which contains 16 boxes. Lastly, there is a format of 8×8 which contains 64 boxes.
The rules are simple in Minesweeper. There is mine under these boxes. If you find a box without a mine. You will get your reward. If you find a box with a mine. Then you will lose.
Andar Bahar
Andar Bahar is a card game. It is also a guessing game. In this game, you have to choose Andar or Bahar. They will show a hole card. You have to choose Andar or Bahar in 30 seconds. Then in the order of Andar to Bahar cards will be dealt.
The hole card shows a number then Andar or Bahar which shows the same number first will win. If the same card does not appear on the first 30 moves it will be considered a tie then.
Crash
Crash is a very popular game in the Fiewin app. It is personally my favorite. Firstly, choose the bet you want to place. The multiplier will rise from 1.00x upwards. You can stop at any time to multiply your current bet. But you have to be careful the game can end at any moment and if you don't stop the multiplier. You will get nothing and will also lose your bet.
Dice
Dice is also a prediction-based game. You can guess a number from 1 to 100. There will be a total of 1 minute in this game. 45 seconds to order and 15 seconds to show the bet result. If the number you choose come in the result you win. Otherwise, you will lose.
Hilo
Hilo is a card game. It is a newly added game in the Fiewin app. Place your bet. Then a hole card will be shown. The next card will be higher or lower than the hole card. If you guess correctly you will win.
Then you can continue to flop or you can end the game and get your reward. If you guess 4 hole cards in a row. Then you can win the jackpot reward.
So these are the six games in the Fiewin app.
How To Reduce Fiewin Games Risks?
So as I tell you the risk in Fiewin Game is high. Because these are prediction-based games. These are not skilled-based games. That you can practice these. It is all the luck factor in the Fiewin game. Follow these points to reduce risk in the Fiewin games.
First, you should earn money in the Fiewin app by referring to other people or by daily check-in. After that, you can use that money to play Fiewin games.
One more way could be you should recharge with less amount in the Fiewin app. For e.g, ₹20 to ₹50. So if you lose the game you will not lose a huge amount of money.
If you are losing in a particular game. You should change it and play another game or quit the games in it.
Conclusion
So the question is whether you play Fiewin Games or not. In my opinion, if you are willing to play the Fiewin Games. You should follow the points that I tell you in the How to reduce Fiewin Games risks. Like to play games with money earned through referring or to recharge with a minimum amount of money.
So this is all for How to play Fiewin Games and how to reduce risks in these games. If you want to know more options to earn in the Fiewin app check- Earning With Fiewin App.