Want to call through the internet? Am I right. That's the reason you are reading this post.
You can do it via a platform called Globfone. com. And guess what it's absolutely free. You don't need to pay anything.
Globfone is an online free call and SMS service. Along with call and SMS, it also allows sharing files securely. The best part about this platform is all the services are free of cost.
I know there are many platforms like this but very few of them are free like this. I have personally tried many platforms and found that Globfone is the best. It's really fun to do the free online calling.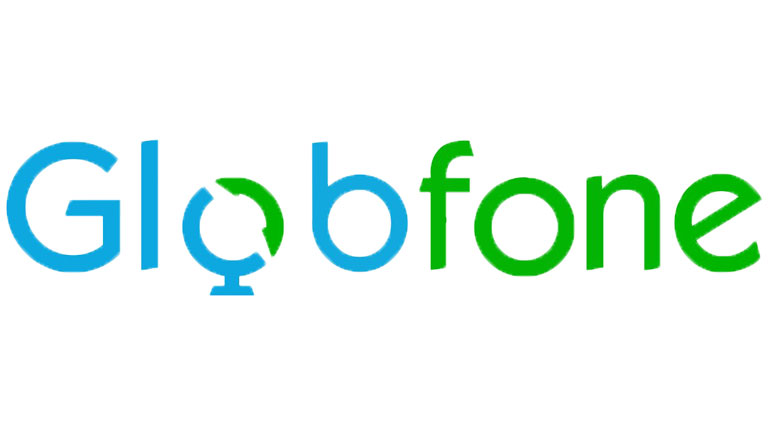 If you are also looking for a platform where you can make free audio and video calls. Globfone might be a good option for you. Globfone call is one of the most popular free online calling websites. I am going to share how to use Globfone. Just stick with this post.
What Is Globfone?
Globfone is a free service that allows making free phone calls, SMS, and P2P file sharing. All of these features are absolutely free of cost.
All these you can do without even signing up on their website. Can you imagine?
So there's no need to worry about your data. I personally like this feature most. Although nowadays so many websites and apps are selling data. This website is an exception.
Even you don't have to install any apps, you can access all features through its website. Although there is a Globfone app available for both OS Android and iOS.
Features Of Globfone
Now I am going to share all the features and their details. It's free online calling in India without registration.
Let's see…
Globfone Free Voice Calls
You can make voice calls via VoIP (Voice Over Internet Protocol) technology. VoIP allows us to make calls via the internet. If you have access to an Internet connection, you can call anyone from anywhere. Globfone uses this technology to provide better quality.
You can call a mobile as well as a landline phone. Not only this you can also call other countries as well with Globfone free call feature.
Here are the steps to call.
Step 1 – First of all, open this link https://globfone.com/call-phone/
Step 2 – Enter your Name or Phone Number.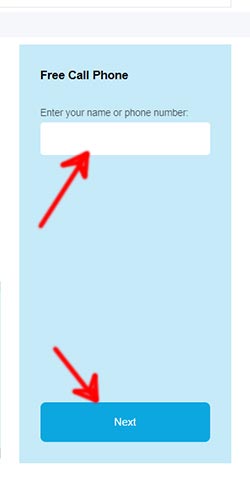 Step 3 – Now select the country where you want to call. Enter the Phone Number whom you want to call.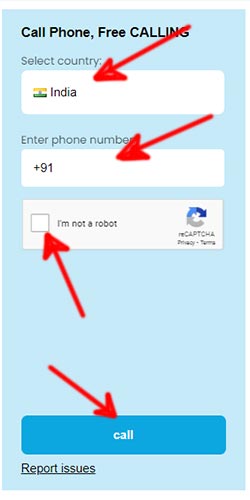 Step 4 – Verify the captcha.
Step 5 – Click on the Call button. Now it will ask for Mic's permission, just allow that.
It will only take a few seconds to call.
Globfone free call is quite good than its competition.
Wait as it is free so there are few limitations. The number of calls you can make and the duration of the call are limited per IP address. It will reset after 24 hours.
If you have multiple devices like a PC and Smartphone or if you own more than one Smartphone you can take the benefit of it by using multiple devices.
Globfone Free Text/SMS
If you do too much text then it will good feature for you. As currently most of the network service providers in India are offering 100 SMS per day. It is very less for some people who text too much. Especially those people who don't use online messenger like WhatsApp, FB, Instagram, etc.
Step 1 – First, open this link https://globfone.com/send-text/
Step 2 – Enter your Name or Phone number and click on Next.
Step 3 – Now select the receiver's country and enter his/her phone number.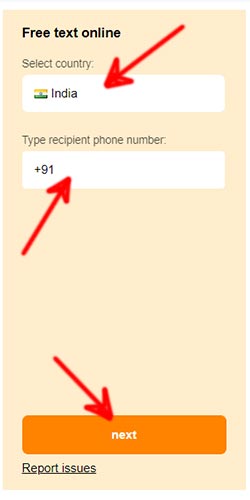 Step 4 – Click on Next.
Step 5 – Enter your message and verify the captcha.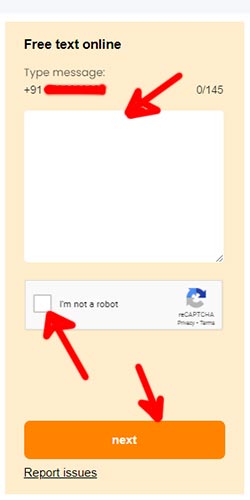 Step 6 – Again click on Next.
Step 7 – It will show the delivery status.
The message will be sent. Sometimes it can take some time.
Overall Globfone free SMS service is good. But in some cases, it can take some time to deliver the SMS.
Click here if you want to know how to delete Instagram account.
Globfone Free Video Calls
Yeah, you can use Globfone to make free video calls. Video calls on Globfone use a P2P (Peer-To-Peer) service. That means the calls happen between two users without any third party's interference.
In this case, you both need to use the Globfone service.
Step 1 – First, open this link https://globfone.com/video-chat/
Step 2 – Now enter your name and click on the Next button.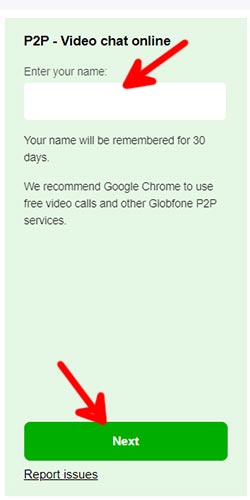 Step 3 – Then Globfone will ask for two permissions Camera and Mic. You have to allow these permissions to use the video call feature.
Step 4 – Enter the name with whom you want to do a video call. Before that tell him/her to follow the above steps.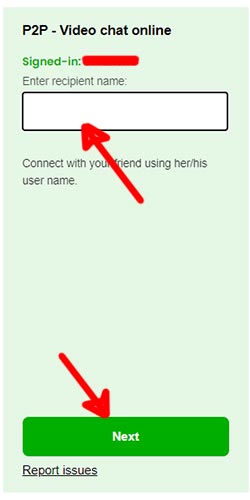 Step 5 – Now click on the Next button.
You are connected. Once you are done with your video call just click on End Call.
Enjoy video call with your family, relatives, and friends.
Globfone Free File Sharing
The free file sharing feature of Globfone can be very helpful. It allows sharing file documents online via their secure connection. Sometimes we need to share files with others, so in this case, this feature can help you.
Let's assume another scenario, you have an important file on your PC and you need to transfer it to your Smartphone. Just follow the same steps which I have shared below.
Globfone uses a P2P service, which means it will not store your data. Even they use WebRTC secure connection.
To use this feature 2 persons have to be online on Globfone.
Step 1 – First, open this link https://globfone.com/p2p-file-sharing/
Step 2 – Then click on Find User and enter your name.
Step 3 – Do the same process on the other device if you are doing file sharing with anyone ask him/her to do the process.
Step 4 – Click on next and enter the recipient's name.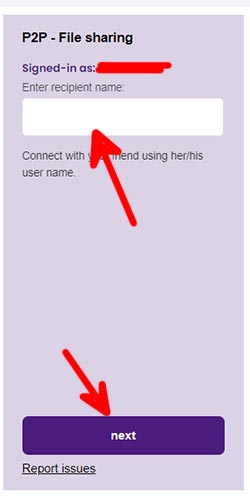 Step 5 – Again click on Next.
Step 6 – Click on Share File. Choose your file and share.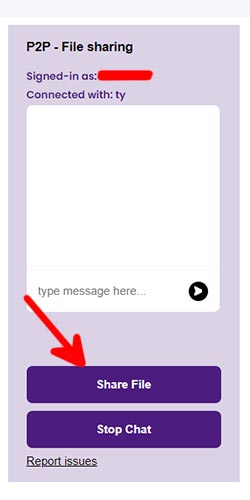 Step 7 – It will take some time to upload it depends on the file size and upload speed of your Internet connection.
Step 8 – Now ask him/her to download that.
Once you have completed the File transfer just click on Stop Chat.
You can share images, videos, documents. It supports all formats.
Globfone App Download
The Globfone website works fine. But still, if you are looking for a Globfone app, you can download the Globfone app.
It is available for both OS Android and iOS. Android users can find Globfone APK on Google Play Store. Just go to the Play Store and search Globfone APK Download.
Similarly, iOS users can go to the Apple App store to download the Globfone app.
You can download this free online calling app on both Android & iOS.
Globfone App Alternative
If you are using the Globfone app, then you should know that Globfone is not the only app for making free international calls because there are plenty of other apps that you can use to make free international calls.
So the alternative app for the Globfone app is the Poptox app.
How Does Globfone Works?
For making calls Globfone uses VoIP (Voice-Over-IP) technology, which allows making calls via the internet.
The number of calls is limited for an IP address. And the call duration is also limited. No worry It will be renewed in 24 hours.
Unblock Globfone Phone Number
For any reason, if you want, you can block your phone number on the Globfone app. To block your phone number, you have to open the Block my number in the Globfone app or website. On the Block my number page, you can enter your phone number and enter the confirmation sms.
However, you should know that once your block your phone number, you cannot unblock it later because it is an irreversible action on the Globfone app. 
Globfone Pros & Cons
Pros:
It's Free. No need to pay a single penny to use it.
You can make international calls.
Cons:
General FAQ
What is Globfone?
Globfone is a service that allows you to do free calls, SMS, & P2P File Sharing.
How can I make a free call from the Internet?
You can call via the internet for free with a free calling platform like Globfone, PopTox, etc.
Is Globfone safe to use?
Yes, it is safe to use.
Globfone is real or fake?
It is a 100% real platform to make free calls. I have done free calls many times.
Is Globfone really free?
Yeah, it's absolutely free.
Is Globfone legal?
Yes, it is legal unless you are not doing it for illegal purposes.
Can I make international calls on Globfone?
Yes, you can make calls to the US, UK, & some other countries.
Do I need to create an account on Globfone?
No, you don't need to create an account to use it.
Can Globfone leak my data?
As you are not creating an account so there's no data. So no data leaking.
Conclusion
I must say that Globfone is a great platform. When I found this website I was really amazed by its features. You should definitely give it a try. As all the features are free, you don't need to worry about anything.
Even they do not ask to sign up to use their services. I hope that you will also like Globfone. There are many so-called free calling websites available, so double-check before trying any site. But there are also some good sites like Globfone. I have shared those sites on my blog.
If you have still any queries just comment below. I will try my best to solve it.