Do you know you can invest in US stocks from your smartphone?
Thanks to apps like INDmoney. You can easily invest in US stocks like Microsoft, Amazon, Apple, Google, Facebook, & many more.
You have already read in the title that you will get Rs.750 worth of US stocks free if use the INDmoney referral code.
In this post, I am going to share how you can register in the INDmoney and get free stocks worth Rs.750.
Let's get started…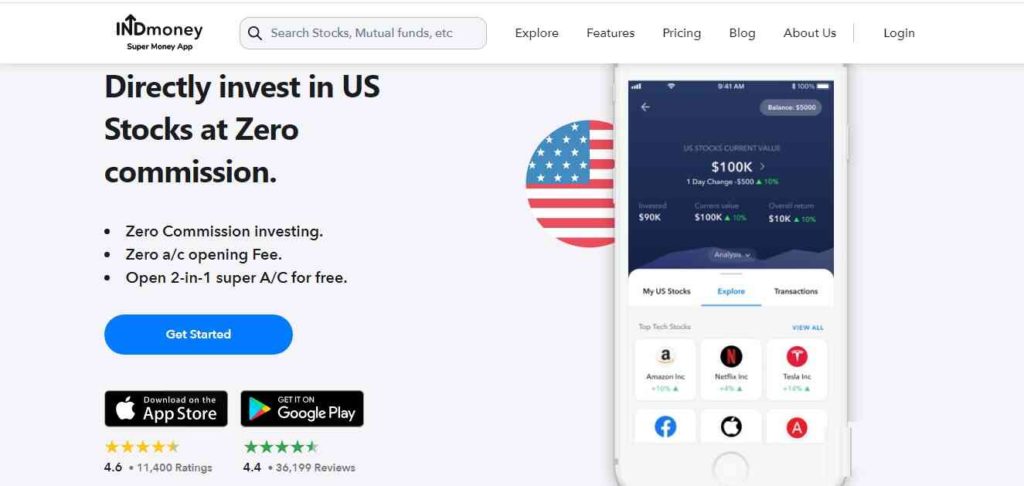 What is INDmoney?
INDmoney is a one-stop solution for all your financial needs. Earlier the app was known as INDwealth. The app was launched in 2019.
You can invest in stocks(US and Indian), crypto, mutual funds, fixed deposits, bonds, etc.
The best part is that it allows you to buy a fraction of US stocks.
It is owned by Finzoom Investment Advisors (p) Ltd.
Read Also: Upstox Refer and Earn
How To Download INDmoney App
The INDmoney app is available for Android & iOS as well.
It is available on both Android & iOS. Simply go to your preferred app store and install it.
INDmoney Features
FREE US stocks a/c.
Zero-commission investing in mutual funds & US stocks.
Zero brokerage to buy & sell US Stocks.
Zero AMC.
INDRewards.
Is INDmoney Safe?
INDmoney is a SEBI Registered Investment company. And it is backed by Tiger Global, Steadview Capital, and Dragoneer.
How To Get INDmoney Free Stocks Worth Rs.750
As I said in the beginning, you will get free stocks worth Rs.750 as an INDmoney sign up bonus.
Let's see how you can get free stocks.
How To Register On INDmoney:
Now lets, see what are the document required and how you can register on this platform.
Requirements:
Mobile Number
Email ID
Aadhaar Card
PAN Card
Bank Account Statement
First of all download the INDmoney app.
Open the app and tap on Get Started button.
Enter your mobile number and verify your mobile number. Tap on Continue.
Put INDmoney referral code.
Tap on the Account Setup.
Now tap on Build Your Net Wealth.
Enter your full name and email ID.
On the next screen enter your PAN Card number.
Your account will be opened.
Now scroll down and tap on US Stocks.
Tap on the Activate now then tap on Continue.
Now tap Agree and Continue.
You can see your PAN and name.
Select your Gender and DOB and tap on Continue.
Enter your last 4 digit Aadhaar number.
Tap on Proceed for KYC via Aadhaar.
You will be redirected to Digilocker, just verify it.
Now you will be asked to enter your basic details(City, marital status, father's & mother's name).
Hit the Continue button.
Enter your professional details.
Take a selfie and upload it.
Now complete video KYC.
Finally, your account is opened.
Now you need to add money to your INDmoney wallet to the free stocks.
How To Add Money In INDmoney
Here are the steps to add money to your INDmoney wallet. There's no fee for adding money to your wallet.
Considering you are already in the app.
Scroll down and tap on US Stock.
Now you can see your wallet here.
Tap on Add Funds and enter the amount that you want to add.
You need to add your bank account. Enter your bank account details.
Tap on Save & Continue.
Now make the payment. You can use UPI.
Then tap on Confirm Remittance.
It will take some time to reflect the amount in your US trading account.
You will get free stocks worth Rs.750.
Read Also: 5Paisa App Referral Program
INDmoney Refer and Earn
INDmoney is offering Rs.500 per referral.
Let's say your friend register using your referral code. When your friend adds money more than Rs.5,000 you will get Rs.500. If your friend adds less than 5,000, you will get Rs.200.
The amount will be paid in form of stocks.
Share your INDmoney referral link or code.
You can earn a good amount of Indmoney referral bonus if you have a large contact list.
How To Share INDmoney Referral Code:
First login to the app and tap the Rewards option.
Now head over to the My Rewards tab.
Tap on Refer Now.
Share your referral code.
Read Also:
How To Withdraw From INDmoney US Account
INDmoney charges $5 for withdrawing money from a US stock account. So it's good to withdraw when you have more money.
Just open the app and tap on Manage.
Now tap on the US Stock a/c.
Then tap on Withdraw.
Now enter the amount you want to withdraw. Enter it on US Dollar $.
Suppose you enter $20. $5 will be charged by INDmoney and the rest $15 will be credited to your bank account.
Hit the Confirm & Withdraw button.
It can take up to 10 days. Now it will show in your Super Saver a/c.
Tap on the Super Saver a/c and then tap on Withdraw.
Enter the amount you want to withdraw and tap on Proceed to Withdraw.
Select your bank account where you want to receive it and tap on Save & Continue.
Now you will receive an OTP on your registered mobile number.
Enter the OTP and the amount will be credited to your bank account.
INDmoney Referral Code: Conclusion
INDmoney is a good app if you are looking for an app to invest in US stocks. You can earn a good amount of money through the referral program.