Mampimobile is a new Paytm cash-earning website like BDSakal. You can earn free Paytm cash by playing games on this website. Currently, there are very few Paytm cash-earning sites. Mampimobile is one of them. So if you were looking for Paytm cash earning site, read this post carefully.
Today I am going to share how you can make money with this website.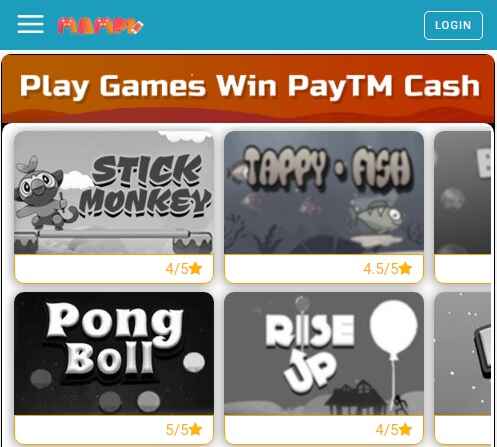 What is Mampimobile?
Mampimobile is an online gaming website. Where registered users can play online games and earn Paytm cash from them. Here you can find entertaining games to play. Play+Earn=Double Fun.
How To Register On Mampimobile & Get Rs.20
Mampimobile is offering a flat Rs20 for just signing up on the site. Here is a step-by-step guide on how you can get it.
#Step 1: First, you need to visit the Mampimobile registration page. Use Chrome browser on your Smartphone for the best experience.
#Step 2: Now just tap on Sign Up With Google. Login to your Google Account or you can create a new Google account for this.
#Step 3: Enter your username. You can choose any username.
#Step 4: Enter your Paytm registered mobile number to receive money in your Paytm wallet.
#Step 5: Now go to your mail inbox, There you might find an email from Mampimobile. Open that mail and verify your mail. Once you verify your mail, you will get Rs.20 Paytm cash.
#Step 6: Again login to Mampimobile and go to profile. Now enter your name, location DOB, and other details to complete your profile. You can update your profile anytime. But you can't change your registered mail address.
Are you looking for money-earning apps, check out this post about some of the best money-earning apps.
How To Earn Money With Mampimobile
There are 3 ways to earn money on MM. The first one is through playing Games, The second one is by referring. The third one is by Login Challange.
Read Also: How To Earn Free Paytm Cash Without Investing
Games
There are multiple games available like Stick Monkey, Tappy Fish, Bubble Up, Pong Ball, and Rise Up. The games are simple to play. You can play and earn Paytm cash.
Mampimobile Refer and Earn
Mampimobile is offering Rs.4 per successful referral. There's no limit in the referral earning. You can refer and earn unlimited with the Mampimobile referral program.
Login to your Mampimobile account and tap on the menu on the top left.
Here you can see Refer and Earn, just tap on that.
Now copy your referral link as share it as much as you can. You can share the link on WhatsApp, Facebook, Telegram, etc. To earn more and the link on groups.
Want to earn money by playing games, check the Mobile Premier League app and Winzo Gold App.
Login Challenge
There's a login challenge Mampimobile. You can earn Rs.20 Paytm cash in this challenge. Just log in to your account for 100 days and you will get Rs.20. But there's a condition you have to log in continuously, if you miss even for a single day the challenge will be restarted from the beginning(Day 1).
Do you know? You can earn money for online shopping with CashKaro, PaisaWapas, and GoPaisa?
How To Withdraw Earnings From Mampimobile
The minimum redemption amount is only Rs.50. You will get Rs.20 as a sign-up bonus, so you have to earn another Rs.30 to redeem your money. Once you have Rs.50 or more in your Mampimobile wallet, just to the Wallet section and redeem your money. The money will be credited to your Paytm wallet.
Make sure you have linked your Paytm registered mobile number. And you have a KYC verified Paytm account to get the wallet balance.
Mampimobile App Download
As of now, the Mampimobile app is not available. You have to access it through the website. Once they launched their app, I will update the link here. So bookmark this page and keep visiting.
Conclusion
Mampimobile is new gaming Paytm cash earning site. If you were looking for a new way to earn free Paytm cash you should try this new site.