Online jobs are the new trends. People are working from home online and earning money. Because of Covid, people understood that having a side income is important.
In today's world, everyone wants to make money by working on the internet as a freelancer. There are many types of online jobs which are available for people.
Online transcription jobs are one of the easiest work you can get as a beginner. You don't need any special skills to do transcription work, and you can make money working part-time. Knowing good English is enough to make money through transcription.
Online transcription is a great way for newbies to make money from home. Anyone with a computer, internet access, and typing skills can do it. You can do transcription jobs from home.
This post is all about Online transcription jobs for beginners.
Let's dive in…
How Do You Get Started With Online Transcription Jobs?
Now you know that you can start transcription without any special talent. But now the question is how to get started with transcription to earn.
Here are some of the requirements, I am sure you already have that.
#1 Laptop and Internet Connection: You might have a laptop and read this post on it. And a good internet connection is recommended.
#2 Solid English and Grammer: Your English should to proficient.
#3 Take A Course: Some sites offer courses and tests before hiring you as a transcriptionist.
#4 Establish your experience: You might not have experience in transcription. But you can have it over time. Once you get your hands in his field. Put your fear in your dustbin. Some transcription jobs don't require any experience on the other hand some require an experienced transcriptionist.
Read Also: How To Earn Money Watching Videos
What Are The Benefits Of Transcription Jobs?
You Can Work From Anywhere
There Will Always Be Work
You Have Flexibility in Your Schedule
You Have Flexibility in Your Workload
Transcriptions Categories
General Transcription
Legal Transcription
Medical Transcription
Where to Find Work Online Transcription Jobs For Beginners
It's quite a difficult task to find transcription jobs for beginners.
So I am going to share 8 sites where you will find Transcription jobs.
Let's take a look at the transcription sites.
#1 Rev
Rev is well known in this industry. The company has more than 170,000 clients including Microsoft, Amazon, Visa, etc.
Rev has featured in Techcrunch, Forbes, CNBC, The Wall Street Journal, etc.
You can choose from hundreds of freelance transcription jobs. Just you need to pass a test to get started.
Payout: Paypal
Range of Pay: From $0.30-$1.10 Per audio/video minute
#2 GoTranscript
Gotranscript is another popular online audio & video transcript service. They have clients in various categories: Medical, Legal, Academic, and Enterprise.
Similar to Rev, you have to take a test to get tasks. You need to pass with at least 95%.accuracy. No worry you can retake a test if you fail to reach the accuracy.
Payout: Paypal & Payoneer
Range of Pay: Up to $0.60 Per audio or video minute
#3 TranscribeMe
TranscribeMe is one of the best places to find online transcription jobs for beginners.
The company serves in various industries like Ai, Tech, Medical, Educational, Consulting, and Market Research.
They have worked with Facebook, Harvard, Oracle, SalesForce, etc.
TranscribeMe will train you, so you can become a good transcriptionist.
Payout: Paypal
Range of Pay: $0.25 – $0.36 per audio minute
#4 Scribie
Scribie is another site where you can get transcriptions jobs. They are doing business since 2008.
You can save around 60% of your typing effort with the Scribie automated transcripts feature. You will get a bonus of $5 for every 3 hours completed each month.
The company worked with Google, Netflix, Airbnb, etc.
Payout: Paypal
Range of Payout: $0.083 – $0.33per audio minute
#5 Quicktate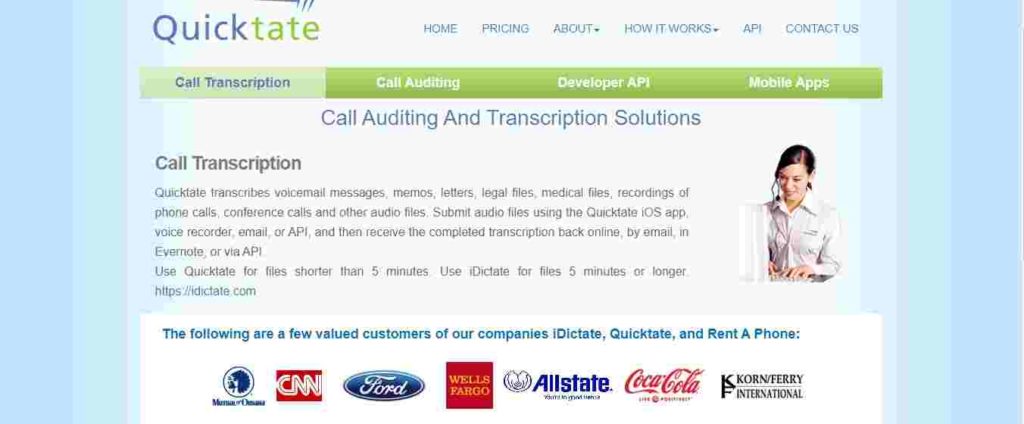 Quicktate offers services for Speech Transcription, Driver Safety, and Call Transcription.
You need to take a quiz to get get started. After the quiz, you need to pay $20 for a background check.
Payout: Paypal
Range of Payout: Not known
#6 Crowdsurf

Crowdsurf is another transcription site. The company provides transcription and captioning services.
You need to pass an assessment to get qualify.
Payout Options: Paypal, Direct Deposit
Range of Payout: Not known
#7 GMR Transcription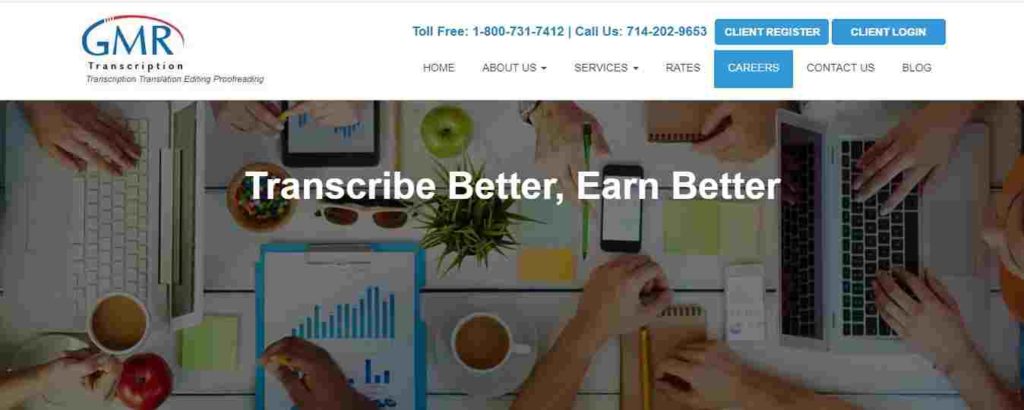 GMR Transcription was founded in 2004. Since then they are providing transcription and translation services.
Some of their clients are Amazon, Discovery Channel, Dell, Levis, & many more.
You must be a US resident to register.
You don't need experience or any kind of fees.
Payout: Paypal
Range of Payout: $1,000 to $3,000 per month
#8 3Play Media
3Play Media offers many services like Captioning Transcription, Audio Description, Live Captioning, Translation & Subtitling Podcast Transcription, Integrations, & Product Features.
The company worked with Amazon, Youtube, Dropbox, Vimeo, Zoom, etc.
Your age must be 18 or above to be eligible to work as a freelancer.
Payout: Check and Direct Deposit
Range of Payout: Not Known
Read Also: Get Paid To Watch Ads
Want to start a business without investment, try reselling with Meesho.
FAQs
Who is Transcriptionist?
A Transcriptionist who converts audio/video files to text.
How much do transcriptionists make?
You can make around $150-250 per month. Although some people are earning more than $1000 per month.
What are the Qualifications needed for working as a transcriptionist?
No special qualification is needed. You just need to know good English.
How do I become a freelance transcriptionist?
Just register on any site that you want to join and take a test. Once you pass the test, you will become a Transcriptionist. After reaching the minimum payment threshold, you can initiate a payout.
Online Transcription Jobs Conclusion
These are some sites where you will find online transcription jobs for beginners. I hope now you can make an extra income. You can make $150-250 per month. Even some are earning a lot more than this.
Let me know which site you have tried?