IPL(Indian Premier League) is a popular cricketing league in the world that is contested every year in the month of April to May. It represents 10 different teams that are named after the big cities of India. Players from all over the world come to play in this league. Teams are owned by the franchises and sold and bought players during the auctions. This league was founded by the Board of Control for Cricket in India( BCCI) to encourage cricket in India due to the craze of the people.
However, Pakistani players are not allowed to play the IPL because of the sour relationship between both countries. 2008 is the only IPL in which Pakistani players are part of the league.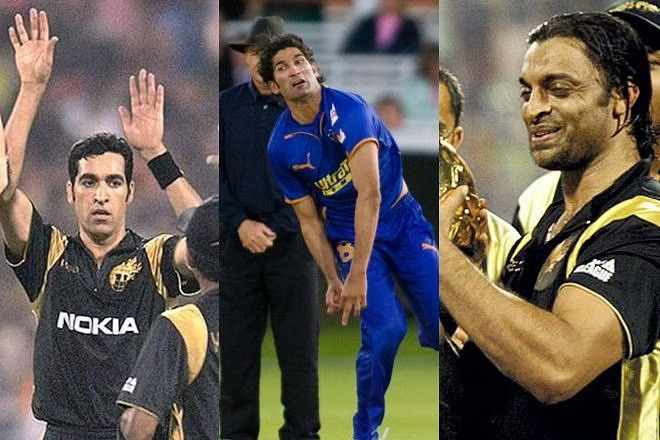 Here is the list of 5 Pakistan player in IPL
Shoaib Akhtar
Shoaib Akhtar is the former Pakistani Cricketer who was known as the fastest bowler to have played the game. He was born on 13 August 1975 in Rawalpindi, Pakistan, also known as " Rawalpindi Express". He played IPL in 2008 for the team Kolkata Knight Riders(KKR) just only for three games and take total 5 five wickets only.
Shahid Afridi
Shaheed Afridi is also the former Pakistani Cricketer and former captain of the Pakistani cricket team. He was All-rounder, right-handed batsman, and right-handed bowler. He was also known as "boom boom" because of his batting. Shahid Afridi played for the Deccan Chargers in the first season of the IPL in 2008. He took 9 wickets and scored 81 runs in 10 matches of that season
Misbah-ul-Haq
Misbah-ul-Haq is a former Pakistani cricket coach and former international cricketer. Misbah captained Pakistan in all formats and was also the chief selector of the Pakistan cricket team. He played for Royal Challenger Banglore (RCB) in the IPL in 2008. He only plays 8 matches and scores 117 runs only.
Kamran Akmal
Kamran Akmal is also a former Pakistani cricketer and member of the Pakistan Team who won the ICC World Twenty20 2009 won against all of the teams but not India. He was a quick-scoring batsman and a wicket-keeper who played six games for Rajasthan Royals in 2008 and scores 128 runs and also plays the IPL finals for Rajasthan Royals in 2008.
Check – PtmWin Casino.
Shoaib Malik
Shoaib Malik is a former Pakistani cricketer who plays for the Pakistan cricket team and currently plays in the PSL league in Pakistan. Shoaib Malik was selected by Delhi Daredevils (now Delhi Captilas) in 2008 IPl and played 7 matches. He scored 52 runs with an average strike rate of 110.