Are you looking for some best Paytm cash earning apps? I know you are. You landed in the perfect place.
There are many so-called free Paytm cash earning apps available in the market. So it becomes very difficult to choose legit apps. So I am here with some rocking Paytm cash apps.
Now, most people spent their time on smartphones but they waste their time. They don't know they can utilize that time and earn real money using smartphones. But I guess you are not on one of them, probably that's the reason you are reading this post.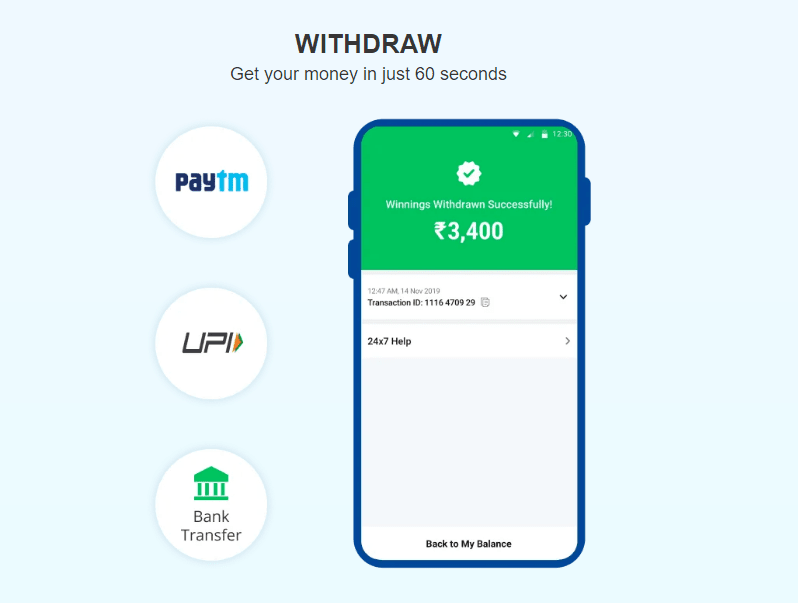 After using these apps, I am sure that your Paytm wallet balance will never be ZERO again. Of course, you have to work for that.
Let's dive in…
9 Paytm Cash Earning Apps
As I have mentioned above that there are many apps, so it becomes very confusing to choose the best and worst. I have chosen some best Paytm cash earning apps. I am going to share the steps to register on those apps.
Here is the list of Paytm money-earning apps.
MPL
Big Cash
Rozdhan
WinZo Gold
Gamezy
Zupee Gold
Frizza
Paytm First Games
Pocket Money
#1 MPL App
MPL is the largest gaming eSports platform in India. There are over 60 games available in the app. Indian people are earning lakhs of rupees. You might have seen MPL ads on TV. It is a trusted and popular app.
First, Download the MPL app.
Now enter your mobile number and verify it.
You will get Rs.75 sign-up bonus that can be used to play games.
Play games and earn some money.
After earning you can withdraw your Paytm account.
I have shared a detailed guide about how you can earn money on the MPL app.
#2 Big Cash App
Big Cash is a gaming app similar to MPL. At the very first it was launched as a gaming website. Now it is available as an app as well. The app can be downloaded from their site. You can make real money by playing games like Fruit Chop, Egg Toss, Knife It, Basket Ball, Football & many popular games. Here you will find the best Paytm cash earning games.
Just download the Big Cash app and install it.
Now open the app and sign up via your desired method.
You will get Rs.50 as sign-up bonus to play games if you are a news user.
Start playing and earning Paytm cash.
#3 Rozdhan App
Rozdhan is a Paytm cash earning app. There are multiple ways to earn money on Rozdhan like by installing apps, playing games, doing puzzles tasks, completing surveys, reading news, etc. Rozdhan app is installed by more than 1 crore people.
First, you need to download the Rozdhan app.
Open the app and choose your language.
Enter your Mobile Number and verify it with OTP. You will get Rs.25 after the verification.
Now enter this referral code 0924LC. After entering the referral, you will get another Rs.25.
Wondering how you can earn more on and withdrawal process? Check out this post about Rozdhan app.
#4 WinZO Gold
WinZO Gold is one of the best gaming platforms with 5CR+ live players. There can be played 70+ exciting games in 12 different languages. Some of the popular games on WinZO are Free Fire, Fruit Samurai, Ludo, Metro Surfer, Carrom, & Pool.
Just download the WinZO app from here.
Enter your Mobile Number and verify it.
Once you verify it, you are ready to play games and earn money.
Want to know more about it, check this post.
#5 Gamezy
Gamezy is a gaming app. You can play more than 15 games on this platform. This app has over 1,00,00,000+ downloads with 4.6 ratings. There are various games available like fantasy sports, Ludo, Fruit Slice, Carrom, Pool, etc.
Download the Gamesy app from here.
Now enter this referral code – 63T1YV
Enter your Mobile Number and Verify it through OTP.
But wait,
How to complete KYC?
How to add cash?
How to withdraw winning money?
Want answers to these questions, check out this detailed post about Gamezy.
#6 Zupee Gold
Zupee Gold is a live trivia quiz app. Where anyone can play quizzes and earn money. The best about this app every participant wins. You can choose over 500 topics to play quizzes on 24/7. There are many quizzes on these topics Chidiya Udd, Maths, One Plus One, Guess The, Celebrity, Famous Dialogues, Mythology, Countries & Capitals, Mixed Bag, Food, English, Hinglish, Odd One Out, etc.
First, just download the Zupee Gold App.
Now install it. Open the app and sign up using a Google account.
Go to your Profile and enter your Paytm registered mobile number.
Enter this referral code – gyxo4do.
You are ready to play quizzes on Zupee.
Here's a detailed post about Zupee God app.
#7 Frizza
Frizza is known as a free Paytm cash earning app. You can earn Paytm cash by installing apps and watching videos. Not only that you can also earn Rs.20 + 10% of your friend's earning. You can withdraw your earnings to your Paytm wallet.
Download the Frizza app from here.
Now enter your Paytm registered Mobile Number.
Of course, verify it.
Enter this referral code – E11R1CA9F.
Once you enter the code you will get Rs.10 as a bonus.
Complete your profile and verify your mail.
You're ready to earn Paytm cash.
Want a detailed guide, check out this post about the Frizza app.
#8 Paytm First Games
As with the name you can guess that it comes from the house of Paytm. This Paytm earning app was launched by Paytm itself. You can play games including fantasy sports. Do you know who is the brand ambassador of Paytm First?
The God of cricket Sachin Tendulkar is the brand ambassador.
What are you waiting for, Just download the Paytm First app.
Now open the app and enter your Mobile Number.
Enter this referral code – divgus448. You will get Rs.50.
You can play game and earn Paytm money.
How to play games?
How to add cash?
How to withdraw money to Paytm wallet?
Here's a guide about Paytm First that's covered all these.
#9 Pocket Money
Pocket Money is a free recharge and Paytm cash app. The app is chosen by over 10 million users. You can earn free Paytm cash by doing various simple tasks like sign up and earn, install and earn, watch and earn, visit and earn, and play and earn.
Download the Pocket Money app.
Enter your Mobile Number and verify it with OTP.
Once you are registered in the app, you can start earning Paytm cash.
You can redeem your earnings to Paytm or you can do Mobile Recharge.
Conclusion
These are some of the best Paytm cash earning apps. After doing so much research have written this post. So that you can get the best apps. I have shared the most trusted apps. Make sure you try and let me know how much you earned from these apps.