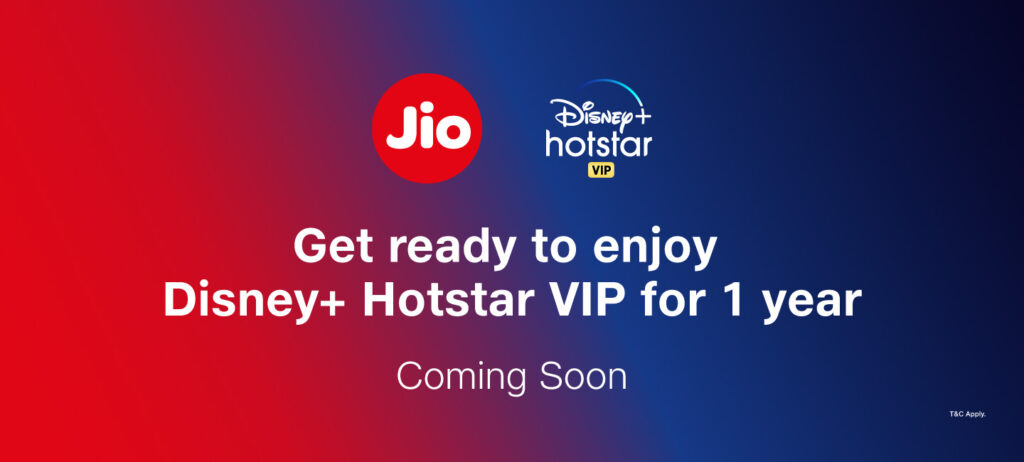 Recently, Reliance Jio added a poster on Jio's official website. In this poster, they shared that Reliance Jio will give Disney+ Hotstar free subscription to their subscribers for one year. There is no confirmation date that when they will give you this offer or who will be eligible for this offer. They just added coming soon in the bottom of the poster, so that mean Reliance Jio will announce more information about this offer soon.
Hotstar Premium one year subscription cost around ₹1499 and Disney+ one year subscription cost ₹999. So if you get Disney+ Hotstar free subscription from Jio, then you will get ₹2498 worth benefit free of cost.
Reliance Jio already have their apps like Jio Tv, Jio Movies, and Jio Cinema, which are already free to all Jio subscribers. In these apps you can watch a lot of content related to Indian movies, web series, TV shows, dramas, serials. In Jio Tv you can also watch live Tv channels as well. But now they are partnering with Disney and Hotstar to give you access to more content to watch.
Disney+ subscription is a great offer for kids because Disney+ has a lot of content for kids. Kids can watch kids related shows, movies, and a lot of cool stuff with Disney+ subscription.
Hotstar free subscription will give you access to their famous web series, movies, and Live sports. Hotstar is most famous for their live sports. With Hotstar free subscription, you can watch all of their content for free.
In the past, Reliance Jio had partnered with many companies to give benefits to their subscribers. Jio had already collaborated with Hotstar once. In this collaboration, Jio gave access to Hotstar Premium to their users for free.