Swagbucks is the most popular rewards program globally. You can earn rewards for doing small tasks.
People around the world earn money from this platform daily. And the most interesting thing is, they earn money from the comfort of their home. You can also do the same.
According to Swagbucks, members can earn $50 – $200 per day. But according to my experience, it will be very tough to make that much amount. I strongly recommend trying this site once.
Topics covered in this post…
How you can earn money from Swagbucks
Is Swagbucks legit?
How much can you earn from Swagbucks?
Just stick with this post, I am going to share a detailed Swagbucks review.
Let's get started…
What Is Swagbucks?
It is California-based loyalty and consumer rewards program. This company is owned by Prodege. It was launched on 27 February 2008. Now they have more than 10 million users.
There are various ways to earn rewards. The reward is called SB points. You can earn SB points by shopping, watching entertaining videos, searching the web, and completing surveys. I
According to SB, they paid ₹644,345,462 to their users.
It is featured in BuzzFeed, The Huffingtonpost, ABC, Save The Student, and many more. As you can see SB is featured on some popular and trusted websites in the World. You should not have any trust issue after reading this.
How To Join Swagbucks?
You don't need a single penny to join. Here is the Swagbucks sign up process below.
Step 1 – First, click this button and visit the Swagbucks website.
Step 2 – Now enter your Email ID and password. You can also join with your Facebook account.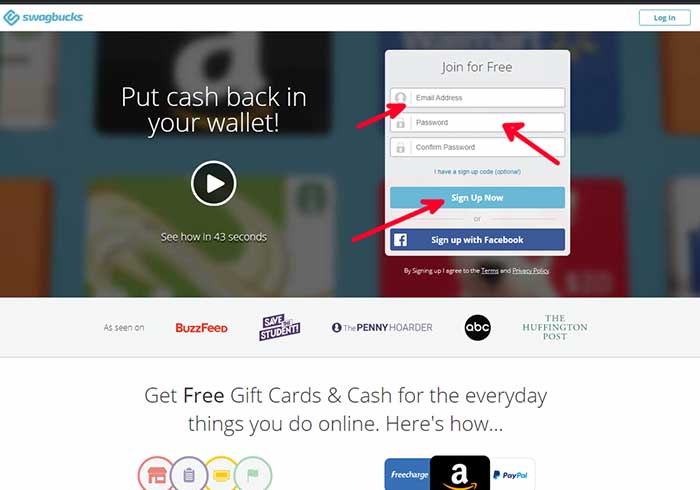 Step 3 – Click on Sign Up Now.
Step 4 – You can see a bunch of options to earn money. Just click on take me to the homepage.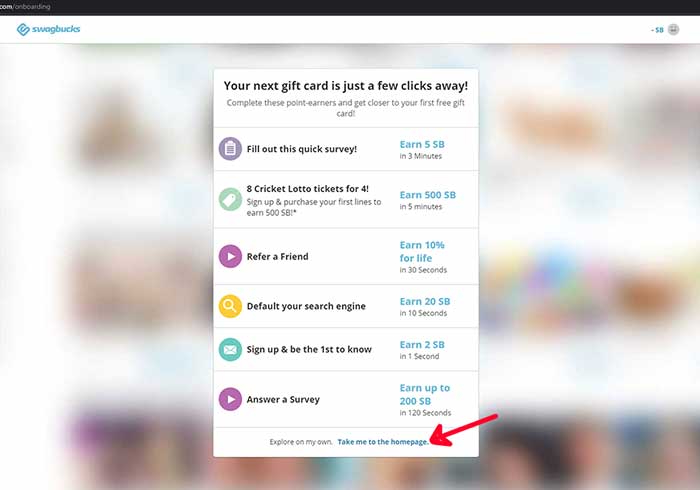 Step 5 – Now you will receive a verification email, in your mail inbox.
Step 6 – Just verify the mail and you are ready to earn.
Step 7 – Complete your profile and you will receive more rewards.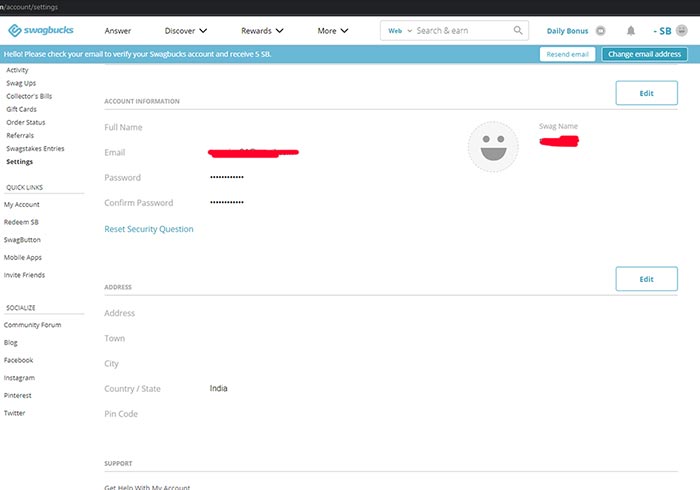 Are you looking for PTC sites, you should check this fresh taaza taaza PTC websites list.
Swagbucks App Download
Swagbucks app download is available on both OS Android and iOS. You can also complete tasks on the app. Just go to Play Store or Apple Store and search this app. Download it start using it.
You can earn anytime anywhere by doing small tasks.
Recently I have shared ySense detailed review, another great earning website.
Wanna try a PTC site, check out this detailed NeoBux review for more details.
Let's look at some pros and cons.
Pros
It's free to join. You don't need money to join.
Multiple ways to earn rewards.
The app is available for both OS Android and iOS.
Multiple payout options.
Cons
It takes a lot of time to earn rewards.
They pay very low for tasks.
How To Earn Money On Swagbucks
There are a bunch of reward-earning methods. I will share how you can earn money on SB. Make sure that you complete your profile. So you will get more options to earn rewards.
Surveys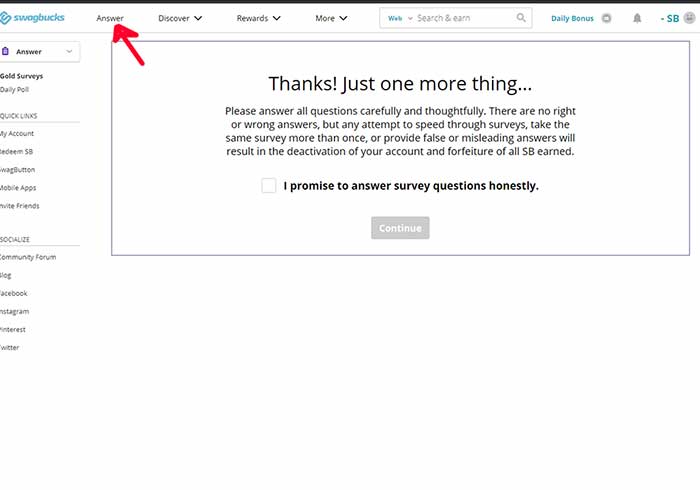 You will receive surveys according to your profile. If your profile matches surveys, then you have to complete them. Once you complete surveys you will get rewards for each survey completion. Swagbucks surveys pay around up to 100 SB points for 15-20 Minutes
Downloading Apps & Games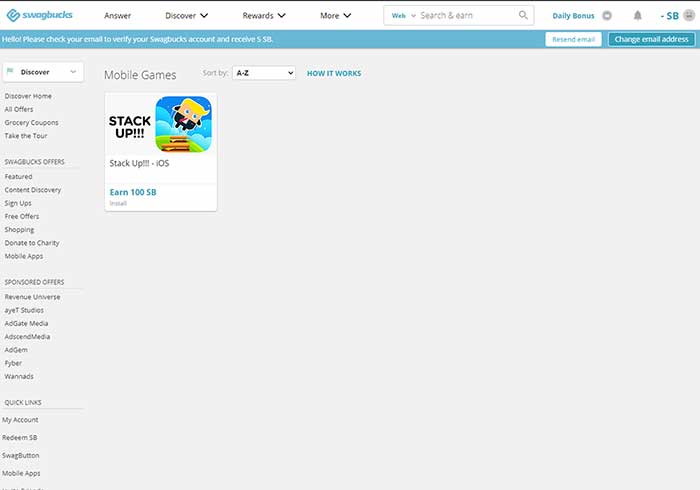 You can earn SB points by downloading apps and games. Apps and games are available for both OS Android and iOS.
You can uninstall the apps after getting the points.
Offers
You will find some offers, you can earn for completing these offers. Some providers are Adscend Media, AdGate Media, Revenue Universe, Ayet Studios, Ad Gem, Fyber, and Wanna Ads. It takes a lot of time to complete offers.
You will find many offers on these providers. You can earn SB points by completing offers.
Swagbucks Referral Program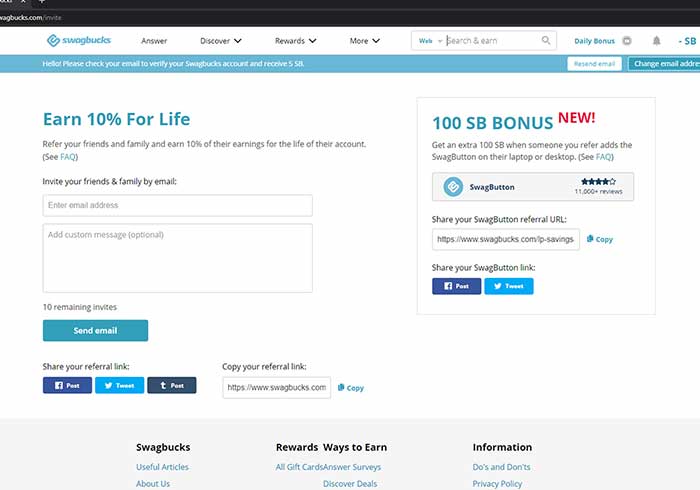 The referral program is pretty impressive. You will get 10% of your referee's earnings. The best thing you will get this for a lifetime.
Just share your referral link on social media.
Swag Codes
They also provide codes to earn SB points. You can simply earn SB points by redeeming Swag codes. To get Swag codes just install the SB extension on your browser to receive a notification. When you receive any notification, you will find all details in the notification.
Daily Goals
If you reach your daily goals you will earn some extra SB points.
Playing Games
Do you like to play games?
If so then SB can help you play and earn money from it. There are also some games available to play. You can earn money by playing games on SB. Make sure you try.
Swagbucks Search Engine
SB also pays money for using SB Search Engine. You have to make it your default search to earn SB points.
Apart from these methods, there are some other methods available like watching videos, shopping, free trials.
How To Withdraw Your Earnings From Swagbucks?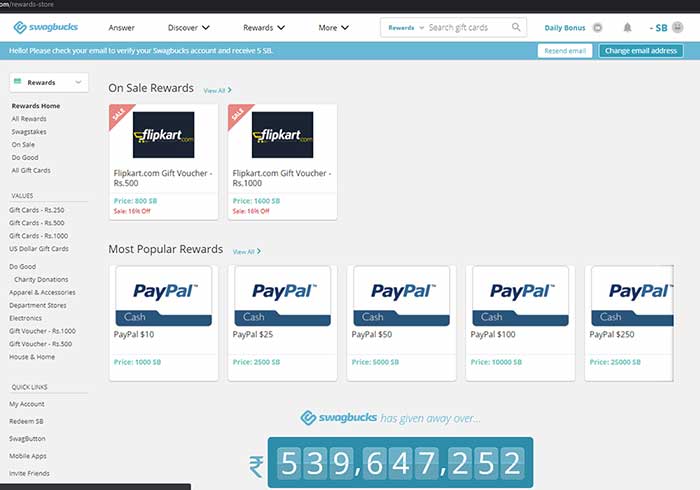 Are you thinking about how to withdraw money from Swagbucks?
This is the most important question. Am I right?
We all like messages like this "Your account is credited $$$ amount.
There are many sites out there where you can see your earnings but you can't withdraw. Because those sites are fake.
But It is not a scam. Once you earned around 800 SB you can redeem your earnings.
Just login to your SB account with Swagbucks login details and redeem your rewards.
You can redeem your earnings to PayPal, Flipkart Gift Card, Amazon Gift Card, etc.
How Much You Can Earn On Swagbucks?
Don't think that you can get a lot of money from SB in a very short time. Yeah, you can earn real money from it.
If you have free time, then you can consider SB to utilize your free time to earn a decent amount of money.
Most people are wasting their time on Mobile phones. So it is better to use this kind of website to utilize your time. At least you can earn your pocket money.
You can earn up to 100 SB for a 15-30 minutes survey.
You can try Times Prime, it is giving Rs.300 free Paytm Cash per referral.
General FAQs about Swagbucks?
Is Swagbucks legit?
Yeah, it is a legit platform. It pays real money to its users for doing tasks. Don't think it's a scam website, although there are many scam websites out there. But I only share genuine money-earning websites on my blog.
Does Swagbucks really give money?
Yes, SB give money if you complete tasks. You can transfer your earnings to your PayPal account.
Is Swagbucks worth it?
If you have free time, It can be good for you. As they don't pay much. I suggest you try this site and decide for yourself. If it's worth it for you or not.
How many Swagbucks is $1?
100 Swagbucks is equal to $1.
Conclusion
Swagbucks is a good choice if you want to earn money in your free time. But don't think you can earn a huge amount of money by doing work on SB. It takes a lot of time to earn a few bucks at least for me
This can't be your main earning source. Although you can earn some pocket money on SB.
At least it is better than wasting time on social media. So think twice and join some more survey sites like this. You can earn more if you join more like this.
Visit this blog regularly. I keep sharing real-money websites and apps.
Now there are many fake money-earning sites. They are never gonna pay you money. So please beware of those websites. Double-check any money-earning websites before trying them.