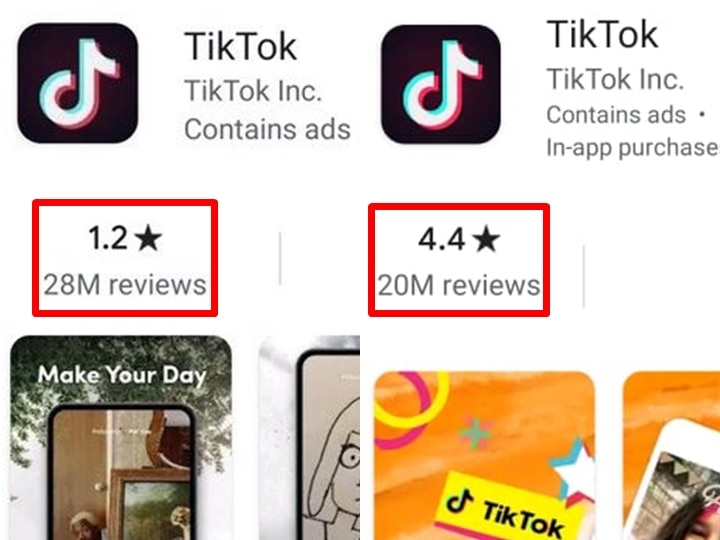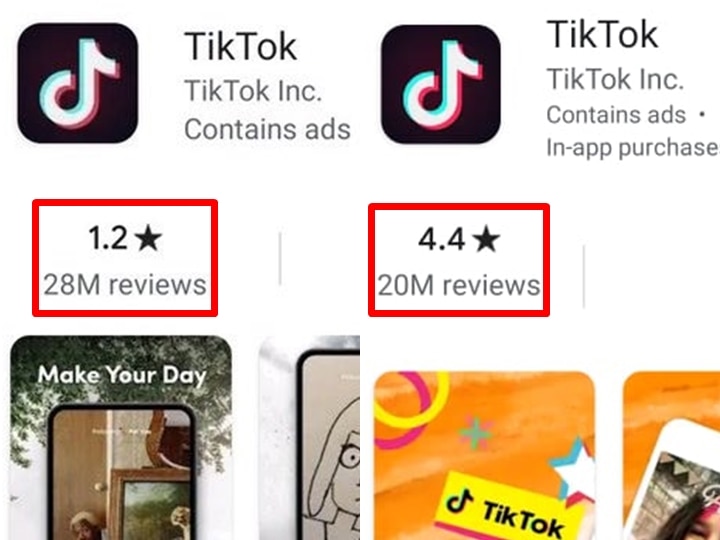 TikTok App ratings have been recovered back to 4.4 Stars, After Google Play Store removed 80 Lakh negative ratings from TikTok App. TikTok had 28 Million Ratings and 1.2 Star Rating on 20 May. But as of Today 29 May, TikTok has around 20 Million Ratings because Google has deleted 8 Million Ratings because of their comment-posting-policy. As Google removed ratings now TikTok has 4.4 Star Rating.
TikTok is in a mess from a while because a Creator on TikTok named Faizal Siddiqui had uploaded a video in which he seemed to throw acid on a Woman. Afterwards this video got viral, and many people got offended because of that video and started bombarding negative ratings on TikTok. Even Government reacted to this video and asked TikTok to remove the video from their platform. After that, TikTok suspended Faizal Siddiqui's TikTok account.
TikTok Ratings got bad after this Faizal Siddiqui video and Carryminati YouTube video, to know more about Carryminati TikTok Drama check here. After all these dramas, Google Play Store came into the scene and favoured TikTok by removing over 8 Million Ratings.
Why Google Removed TikTok App Ratings?
Google has some strict Rating Policy that's why Google favoured TikTok and removed negative ratings on Google Play Store.
But what is this Rating Policy?
Google Doesn't allow spam and fake reviews.
Google Doesn't allow reviews from multiple accounts from one user.
Google Doesn't allow manipulation of ratings by mass attacks.
There are many points in rating policy provided by Google, but above three are major reasons that got Google to remove negative ratings. All ratings made to TikTok recently are spam and fake, because they all aren't based on the App. Many people created multiple accounts or used multiple account to downgrade the ratings of TikTok, which is also not allowed by Google and the most major reason is that TikTok received 8 million negative ratings in some days, which falls in the category of manipulation of ratings by mass attacks.
That's why Google took this step and removed all the negative ratings.