Today I am here with an app called Uable. It's a kind of social media app for teenagers. Here any teenager can hang out as they do on social media. Not only this but teenagers can also earn from this app.
Any Teenager can get gadgets, accessories, apparel, books, games in exchange for U-Coins.
Sounds cool, right?
Today I am going to share how to earn U-Coinson the Uable app, what is Uable refer and earn, how to use the U-Coins to shop, and many more.
Let's get started…
How To Register On The Uable App & Get 100 U-Coins
There are multiple options available for registering in the app. You can use Google, Facebook, or Mail to sign up in Uable.
You must be a teenager to sign up. That means your age must be 13-19.
Once you register in the app, you will get 100 U-Coins.
Let's see how to get 100 U-Coins.
#1 Step: Install the app.
#2 Step: Open the app and tap on Sign Up. I am showing with Email. You can also use Google or Facebook. Enter your Email and Password if you are using Email for signing up. Tap on Sign Up.
#3 Step: Enter your Username, City, & Gender.
#Step 4: Tap on the Pink Next button.
#Step 5: Now select your age. Age must be 13-19.
#Step 6: Tap on Create My Profile.
#Step 7: Now it will send a verification mail to your mailbox. Just verify the mail.
#Step 8: Then you need to personalize your profile. To do so just tap on at least three clubs. You can choose any three according to your interest.
#Step 9: Now you need to select 5 Uablers. Now worry it will recommend some. Just select any 5.
#Step 10: Write something about yourself in the bio.
#Step 11: Congrats! The registration is completed. You will get 100 coins as a joining bonus and 25 coins for mail verification.
Read Also:
What is Uable
Uable is an incentive-based social media app for teenagers. Where Teenagers consume teen-only content, connect with teens, influencers, and brands. A user can also find amazing products on Uable.
They can explore in many categories Art and Design, Gaming, Anime, Photography, Music, Programming, Movies, & Web Series, Food, Sports, Fashion, Love & Relationship, Entrepreneurship, Marketing, Motivation, & many more.
The best part is you can earn U-Coins on this app. With U-Coinsyou can shop across various categories. There are many products available.
You can also participate in giveaways.
Here's a video that explains what is Uable.
Free Scratch Worth Up to Rs.100 Card On Siply App.
Uable App Download
You can download Uable App on Google Play Store. This App is not available on App store yet.
How To Earn U-Coins On Uable
They pay U-Coins for completing various tasks. Here are the methods to earn U-Coins.
Uable Refer and Earn
Daily Bonus
Solve Challange
Talk & Earn
React & Earn
#1 Uable Refer and Earn
The Uable referral program is quite fascinating. You will get a flat 200 U-Coinsper successful referral. Once anyone registers through your link & verifies their account, you will get 200 U-Coins. Just share your Uable referral code.
While sharing the referral code with your friends tell them to verify their account, otherwise, you will not the referral bonus.
Read Also: Best Refer & Earn Apps
#2 Daily Bonus
You will get a scratch card with a random number of U-Coins. Just open the app daily and tap on the Earn tab. Here you can see the Daily Bonus Stroke. Tap on that and you will get a scratch card.
#3 Solve Challange
They will give you various challenges. When you complete a challenge, you will get U-Coins.
#4 Talk & Earn
You will get U-Coins for writing dialogue.
First participant on evrey dialogue get 2 Ucoins.
Every 5 new participants get 10 Ucoins.
You will get 1 U-Coins on first upvote.
You will get t U-Coins for 5 new upvotes.
#5 React & Earn
They will give you coins on reactions.
1 U-Coins for first reaction.
5 U-Coinsfor every 5 new reactions.
Shop Using U-Coins on Uable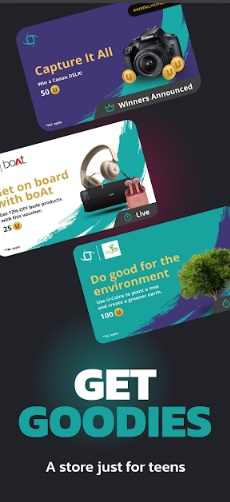 You can use the U-Coins to shop on Uable. There are many products available like speakers, Memory Card, keyboards, USB Cable, Power Bank, Smartwatch, Mouse, Book, Pendrive. & many more.
Once you eared enough coins you can buy these products. Just open the app and head over to U-Store. Here you can see all the available products.
Get Times Prime Membership & get free 300 Paytm cash per referral.
Wanna earn money by playing Ludo, Check out some best Ludo apps to earn money.
Frequently Asked Questions
What is Uable app?
Uable is an incentive-based social media for Teenagers. It only allows Teenagers to use the app. Here Teens can earn incentives.
Is Uable safe app?
Yes, it is a safe app.
Is the Uable app for teens authentic and safe to order from?
Yes, the app is authentic. Ordering from this app is safe.
How can I order from Uable app?
Open the app and visit U-Store. You will find many products on this app. If you have some U-Coins then you can get a discount. Just order any product from here and you will receive it.
Can I earn money from Uable?
There are multiple ways to earn from Uable earning apps like Solve Challange, Talk & Earn, React & Earn, Daily Bonus & Refer and Earn.
How do you use Uable coins?
You can use the Uable coins to get discounts on products, vouchers, etc.
Uable Referral Code Conclusion
The Uable app is a new and unique social media. There is teen-based content available. If you are a teenager, you are gonna love the app.
Now the app is paying you for doing some tasks. The Uable refer and earn program is very good. As they are paying 200 coins per referral. Share your Uable referral code with your friends.
Let me know how much you earned through this app.