Want to earn Paytm cash or bank cash for playing interesting games? Yeah, you can do it.
Nowadays so many people are playing games on their smartphones. But they are playing games only for fun. How if you can earn money by playing games.
Yes, there are gaming platforms that allow users to earn real cash for playing games.
WinZO Gold App is one of the most popular e-Sport platforms in India. Where users can play exciting games and earn money from them. Even some users earn a good amount of money through this kind of app. Also, you can earn money in the Winzo app by referring to other people.
The e-Sport industry is growing rapidly in India. Many big companies are coming into this industry.
Although there are many platforms out there WinZO Gold has already positioned itself in the e-Sport industrty.
Yes, you are reading it right. You can earn money by playing interesting games on WinZO Gold.
There are a lot of games to play in this app. I will share a detailed guide about the WinZO money-earning app.
WinZO Gold APK download is also explained in this blog. Just stick with this post.
Let's get started…
WinZO Gold App Download
WinZO Gold app is not available in Google Play Store. You have to download the app from the official website.
The app has 4.5 star ratings.
But if you're an iOS user, you can download the WinZO Gold app from Apple App Store.
Read Also:
How to Install WinZO Gold & Sign Up
Let's see how to download WinZO Gold APK on Android and how you can sign up for it.
Step 1 – First of all, click on this button and open the official website for the WinZO app download link.
Step 2 – Now tap on Download App & Get Rs.50. And then tap on OK.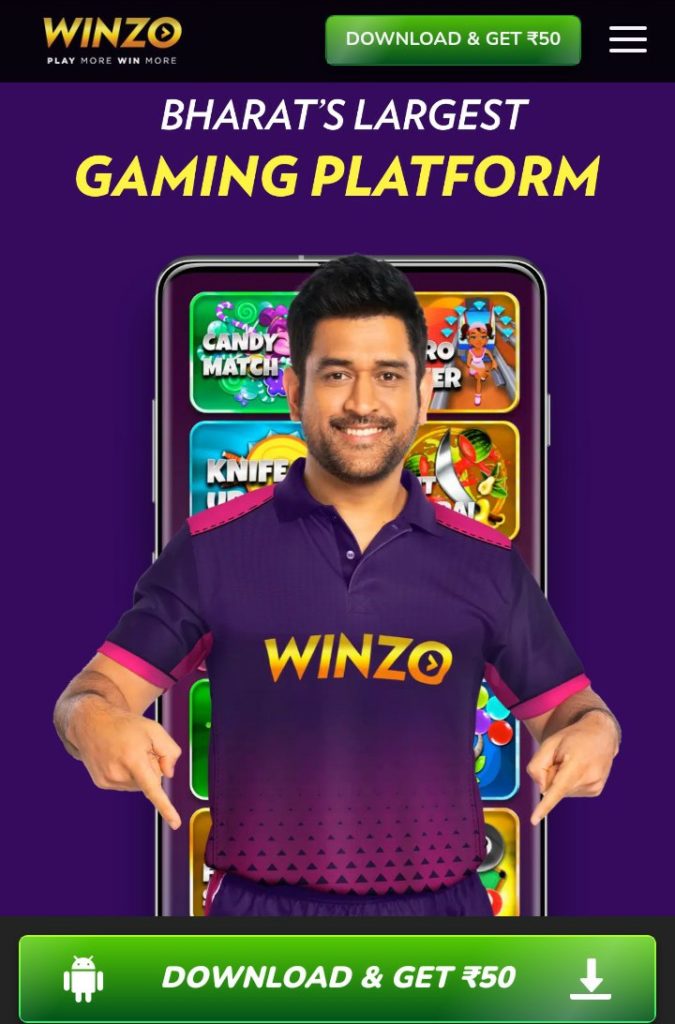 Step 3 – After downloading the APK from the WinZO Gold website, Go to your Smartphone Settings-Security-Enable Install From Unknown Source.
Step 4 – Tap on the WinZO Gold APK and install it.
Step 5 – After the WinZO app download. Choose your desired language.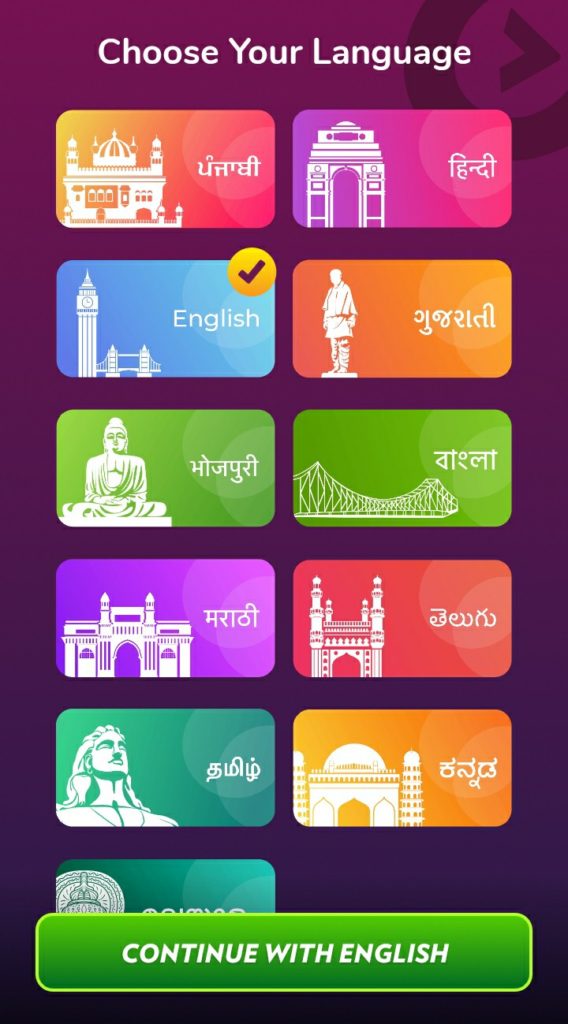 Step 6 – Enter your Mobile number.
Step 7 – Now you need to verify your mobile number.
Step 8 – Once you verify the number you will get Rs.10.
Step 9: Now enter your details.
Check Rozdhan App to earn unlimited Paytm cash.
WinZO Gold App Info
| | |
| --- | --- |
| App Name | WinZO Gold. |
| Users | 5 Cr+ |
| Owner | Tictok Skill Games Private Limited. |
| Available On | Android and iOS. |
| App Size | 116 MB |
| Withdrawal | Paytm, G-pay, Phonepe, & UPI |
WinZO Gold App is a gaming platform where you can play games online and earn money. There are over 100 games available in various categories such as Battle Royal, Action, Card, Esport, Casual, etc.
Now there are many e-Sport apps like MPL, Big Cash, etc.
You will also find the most popular games like Free Fire, Carom, Fruit Samurai, Cricket, etc. Winzogames.com is getting more than 6 million views per month according to Similiarweb.
It has 7 crores+ users. Many people are earning lakhs of rupees with the WinZO Games.
If you want to earn money by just opening the app, you should check: Fiewin App.
Features
There are a lot of features in Winzo Gold app. Here are some features of this app.
More Than 100+ Games – Winzo app includes more than 100+ games in it. It includes a variety of games. They include some popular games also like- Cricket, Pool, Rummy, Carrom, Fantasy Leauge, etc.
Multiple Languages – The winzo app includes multiple languages in it. It consists of more than 10 languages.
Multiple Gaming Categories – It includes a variety of gaming categories also. Such as Strategies, Card Games, E-sports, Arcade, Racing, Casual, Cricket Games, Board Games, Action, etc.
Fantasy League – If you have good knowledge about cricket, football, etc. You can play Fantasy League where you can make your team and win some good money.
Available On Both Android and iOS – Winzo app is available on both Android and iOS. In android, it is not available in the play store but you can download it from the Winzo website. In iOS, it is available in-app store.
100% Safe, Secure and legal app – Winzo app is very safe and secure in transactions. It is also a legal app as you can see this app advt on TV.
Refer and Earn – You can earn on the Winzo app by referring to your know ones. This is the best option to earn money on this app. This option is also risk-free.
Multiple Withdrawal Options– In this app, you can withdraw money from various apps like- Google pay, Paytm, Phonepe, etc.
24/7 Customer Support – The Winzo app also gives 24/7 customer support. Which is very helpful for its users.
Read Also: Skill Cash App – Earn Money By Playing Games
How To Use WinZO Gold App?
It is quite easy to use the WinZO Game. You just need to install it on your Smartphone. After that, you have to play games to earn money. You can also earn with the WinZO Gold referral code.
Categories of Games.
WinZoBaazi
24×7 Tournaments
Daily Quizzes
Sports League
Read Also: Earn Money Playing Zupee Gold Games.
WinZO Gold Refer & Earn
WinZO Gold is offering Rs.35 per referral. You will get Rs.20 when your referee installs using your referral link and plays 1st game. And you will get 20% (up to Rs.10) of your referee's added cash amount. Another Rs.5 when the referee plays 5 games.
You can earn a lot of real cash by referring to WinZO games.
I have shared some best free Paytm cash-earning apps.
How To Refer WinZO Gold App
Here are the steps.
Open the app and log in with WinZO login details.
Tap on the Refer section.
Now tap on Copy Your Referral Link.
Share the referral link on social media.
When your friend installs the app and plays 1st game, you will get Rs.20.
You will get another Rs.10 when he/she adds cash to their WinZO wallet.
And you will get Rs.5 when your friend plays 5 games.
You can share your referral link with Facebook, WhatsApp, Telegram, Youtube, etc.
Read Also: Ludo Supreme Gold By Zupee
Where to share WinZO Referral Code
You can share your WinZO referral code on various social media.
#1 Youtube: You might have seen many users are making videos about money-making apps on Youtube. You can do the same. Just make videos, no don't need to show your face.
Add a referral link in the Youtube description. When anyone uses your referral code, you will get a bonus.
#2 Telegram: Telegram Channels are now popular. You can create a channel on this topic. You just need to share your referral code on that channel.
#3 Facebook Group: Join some money-making groups on Facebook. After that just share your referral code. But there's a very low chance that someone will install it.
Looking for the Paytm cash earning website, check out the Paybox website.
How To Add Cash On WinZO Gold
If you want to play games and earn money, you need to add money to your wallet.
I will share some steps about how you can add cash to your WinZO wallet. Follow the below steps.
Open the Winzo app and tap on the Wallet section.
Now tap on Add Cash.
Enter your desired amount.
Then tap on Add now.
Finally, select your payment method.
You can use UPI, Digital Wallet, Credit/Debit Card, or Net Banking.
Finally, make the payment. The amount will be added to your wallet.
So this is the process for adding cash to the Winzo Gold app. But if you are adding your money to play games on the Winzo app. I will not recommend you to do so. Because it involves risk factors. But if you still want to add money to play Winzo games you should note some important things like –
If you are good at playing Winzo games and you win most of the time. Then you can add your money. But still, risks are involved.
You should add the minimum amount to your account. So, you can not lose a big amount.
Use the money that you earn by referring to the Winzo app.
Are you a Ludo Lover? I have shared some best apps that pay for playing Ludo.
How To Withdraw Winning Cash From WinZO Gold
You can earn the money easily on WinZO earning app. So after earning, you need to withdraw, right? Let's see how you can withdraw your winning balance to your Paytm wallet or Bank Account. The minimum withdrawal amount is Rs.3.
Just to the Wallet section and tap on Withdraw.
Now select Paytm/UPI.
Finally, tap on Withdraw Now.
Boom! you are done. Your winning balance will be credited to your Paytm wallet/Bank Account.
There is a redemption charge of 5%.
WinZO Gold Payment Proof
Here's a WinZO Gold withdrawal proof.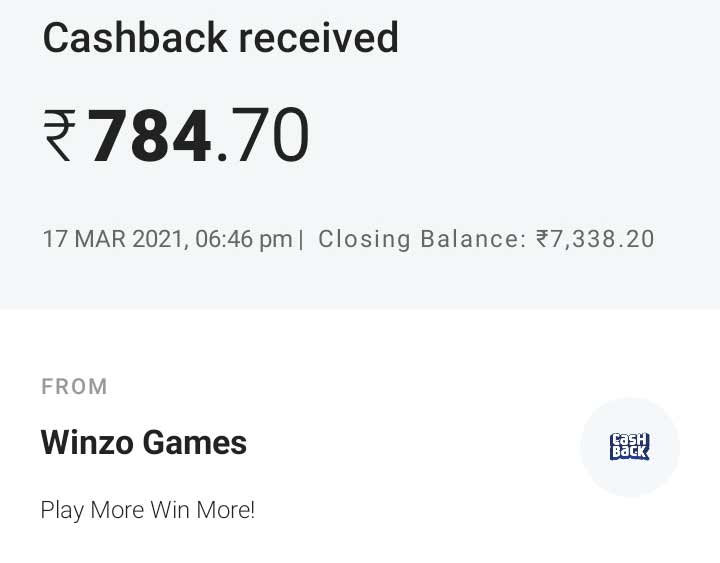 Read Also: Best Refer and Earn Apps
WinZO Gold Pros & Cons
Let's see some pros and cons of WinZO Gold.
Pros:
₹50 Sign Up Bonus.
100+ Games are available to play.
The app is available in 12+ languages.
24/7 Customer Support available.
Cons:
The app is not available in Play Store.
It involves risk also you can lose your money if you are not good at the Winzo games.
WinZO Gold Mod APK
Are you looking for WinZO Gold mod APK or WinZO Gold hack? If yes then read this section carefully.
Do you know that if you use any mod or hacks your account will get banned in WinZO Gold? If you have thousands of rupees on WinZO winning balance it will be totally useless if your account will get banned.
So I always suggest playing all games genuinely. Don't waste your time by finding a WinZO Gold mod APK download.
Read Also: Best Fantasy Sports Apps.
WinZO Gold APK Download For PC
You might already know that directly it is not possible to install APK on a PC. But you can do it with an Emulator.
An emulator is software, which can help you to use any Android app on a PC.
Today I am going to share one of the most popular Emulators.
But wait, what is this?
Its BlueStacks?
BlueStacks is an emulator software. With BlueStacks, we can run Android apps on a PC. It's a well-known and trusted software out there.
So If you want to run Android apps on your PC, you have to download BlueStacks on your PC. Just Google for "Bluestacks". Once you landed on the official site, download it. After downloading, simply install it.
Now download WinZO Gold app. Now import the APK to BlueStacks. Install that on your PC. Now you can use it on your PC.
You also use other emulators rather than BlueStacks. But it works really well.
You can use any other emulators rather than BlueStacks.
WinZO Gold Customer Care Number
Sometimes you may need to contact the WinZO support team. Unfortunately, there is no customer care number for WinZO. But fortunately, there is a support mail ID, which is [email protected]. You can write to this mail.
How To Delete WinZO Gold Account
Wanna delete your WinZO account?
You can delete your WinZO account if you want. Just follow the steps below to do that.
Open your mail and create a new mail. Enter this mail [email protected]
Give a subject like "Delete My WinZO Account" or" Close My Account".
Now tell them in the mail that you want to delete your account. Mention your registered Mobile number and Email ID.
Then send the mail.
They will delete your account.
FAQs
Is WinZO a Gold chinese app?
The WinZO Gold is owned by Tictok Skill Games Private Limited. Which is an Indian company. So this app is not a Chinese app. It is an Indian app.
Is WinZO app real?
Yes, WinZO app is 100% real. Many people are earning a lot of money every day from WinZO Gold App.
Is WinZO Gold app safe?
WinZO Gold App is safe. You don't need to worry. Just install this app and play games.
Is WinZO Gold banned in India?
No, it is not banned in India. You can use it without any issue.
How do I install WinZO?
Simply visit the site and download the APK. After downloading the APK, you can install it. I have shared the steps above.
Does WinZO offer real money for playing games?
Yes, it's true that you can make real money by playing games on WInZO Gold.
Can I withdraw earnings to my Paytm wallet?
Yes, you can withdraw your earnings to your Paytm wallet.
How do I download WinZO Gold APK?
Just head over to the official site and download the APK.
Is WinZO Gold a gambling app?
No, it's not. WinZO is an e-Sport platform that falls under Skill-Based games. Hence it's not a gambling app.
Conclusion
The WinZO Gold app is one of the best-earning apps for playing games. Now it become quite a popular gaming platform. You can see this app advertising on TV. So there shouldn't be any trust issue.
Nowadays people are wasting time by playing other games that don't pay you anything. But you can utilize your time and earn money from apps like Winzo.
To play games on Winzo first you need to add money to your account which involves risk. But if you are good at playing Winzo games you can take the risk. And by referring to other people you can earn good money also.
So if you are wasting time too then you should think about it.
Keep Visiting.