Are you looking for a legit PTC website that pays real money? If yes then you landed in the right place. ySense is one of the most popular and trusted real money sites out there.
Today I am going to share the ySense review. So you can decide if it's good for you or not.
I have used many online earning websites and earned a lot of money from those sites. When it comes to online earning, survey websites are best to earn more. Its a not only survey site, but there are many other ways to earn real money on ySense.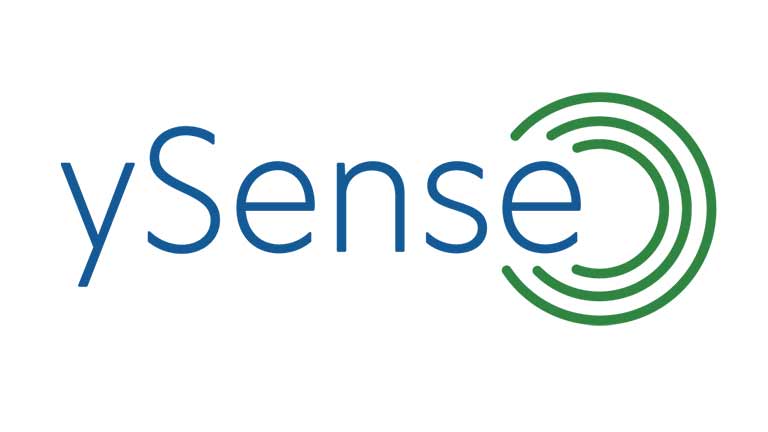 ySense is one of the websites to earn money by completing surveys. I prefer surveys most because it is easy to complete surveys. But some people also earn a good amount through the PTC site. You can try and decide for yourself what is the best method for you.
What Is ySense?
ySense is a GPT(Get-Paid-To) website that pays by doing microtasks. This USA-based market research company was founded in 2007. It has over 7 million users. ySense, formerly known as Clixsense.
In 2019, Prodege acquired Clixsense and renamed it as ySense. It is a member of Prodege, LLC
There are surveys and offers available to make money on ySense. I prefer surveys to earn money. Surveys pay a really good amount of money. It is one of the trusted online money making sites.
You can check some top paid-to-click sites.
How To Join ySense?
You just need an Email ID to join on this platform. There's no fee to join ySense. You can join it absolutely free. Here is the ySense signup process.
Step 1 – First of all, click this button and open the ySense website.
Step 2 – Now enter your Email ID and choose a strong password.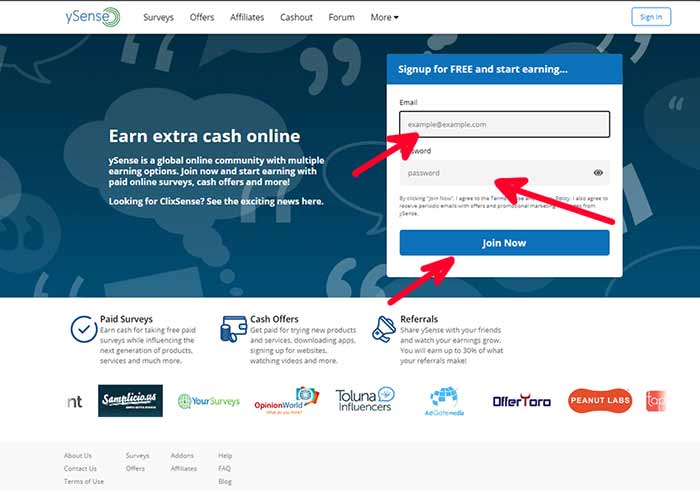 Step 3 – Then click on Join Now. And then enter your First and Last Name.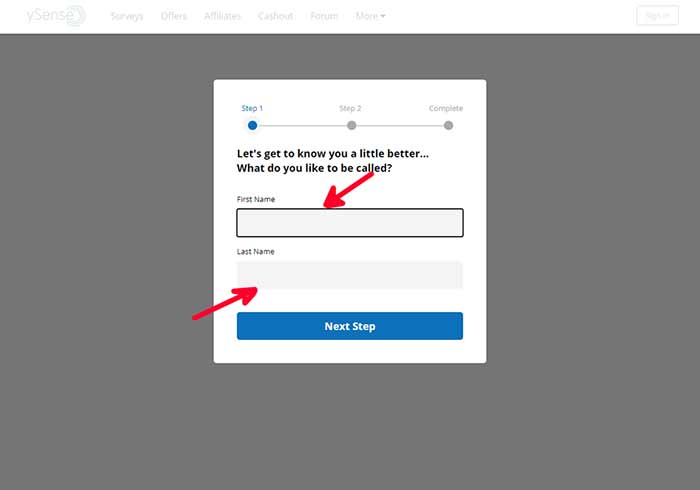 Step 4 – Click on Next Step and enter your unique User Name.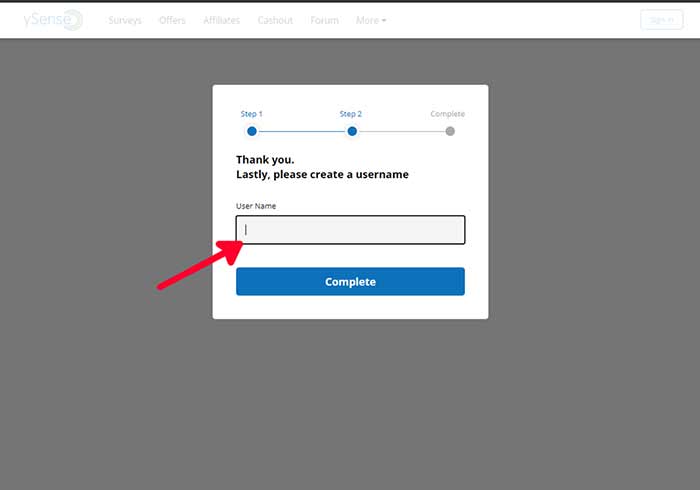 Step 5 – Click on Complete.
Step 6 – Verify your Email ID by clicking on the link which you will receive in your mail inbox.
Step 7 – Now complete your profile, you will get paid to complete your profile.
This is the ysense registration process. You can see it's quit simple.
Wanna know about another great PTC Site? Check out Swagbucks to earn more money.
Requirements
Computer. Although you can complete surveys with Mobile it is easy to suitable to complete surveys with your Mobile. But you can't complete all surveys on your mobile.
An Active Internet Connection.
Email ID.
Eligibility
You must be at least 16 years old to join ySense. It is 13 years for US residents.
How To Earn Money On ySense?

There are many earning methods in ySense. All tasks are micro & easy tasks to complete. Just you need some patience to do those tasks.
Once you logged in to your ySense account, just click on the Menu icon. Here you can see Surveys and Offers. Choose what suitable for your
profile. ySense tasks are easy to complete and earn.
I prefer ySense surveys to earn money because it is quite easy to complete them. Try to complete more tasks to earn more.
Also Check out NeoBux review, another amazing PTC site.
Surveys
Surveys are one of the best ways to earn money from ySense. And it is also easy to complete most surveys. You just need full your information to earn money. Yeah, I have accounts on some survey sites and I earned money from those sites. Although It takes some time to complete surveys.
There are many survey providers available in ySense like Toluna, Samplicio, Opinion World, Cint, Your Surveys, Sample Cube, Global Test Market, etc.
You will get paid to complete surveys. Earn money by filling simple and small surveys.
You can check the top 7 best money-earning apps here.
Offers
There are also some offers available like testing products service, watching videos, signing up for websites, downloading apps, etc. They have some good offer providers like Persona.ly, Peanut Labs, AdGate, and Coupons. You can earn money by completing offers.
ySense Referral Program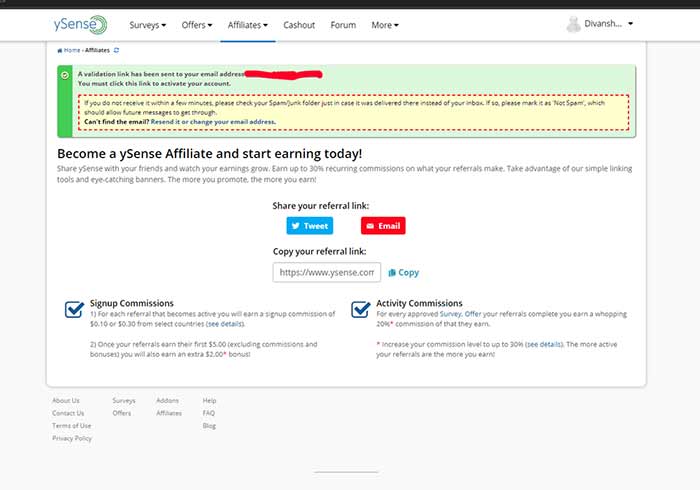 I must say that the ySense referral program is very good as compared to other GPT websites. Let me tell you why…
For each successful referral, you will earn a $0.10-$0.30. It depends on their country. When your referrals earn the first $5, you will get a $2 bonus. This is just a sign-up bonus, you will also get an activity commission.
And when your referrals get approved for a particular survey, you will get a 20% commission of that amount they earned. The commission can increase up to 30%, but it depends on their activity.
Share your affiliate link with your family and friends. I suggest you share your link on social media to earn more.
How To Withdraw From ySense?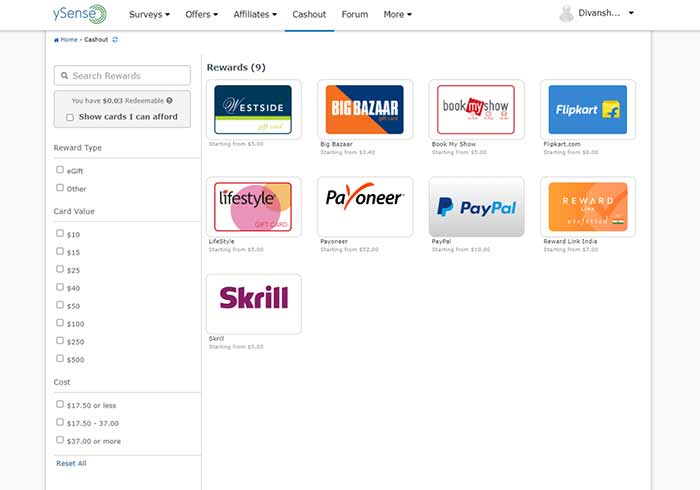 Once you earned some dollars, you can withdraw in ySense using your preferred payout options. The minimum withdrawal amount depends on the payout option. Here you can check ySense payment method options.
You need only around $5 to withdraw your earnings
PayPal – $5
Payoneer – $5
Skrill – $5
Flipkart Gift Card- $5
Big Bazaar Gift Card – $3.40
Westside Gift Card – $5
Bookmyshow Gift Card – $5
LifeStyle Gift Card – $5
General FAQ
Let's check out some frequently asked questions about ySense.
Q.1) Is ySense legit?
There are many scam websites that never pay anything. In fact, most online money-earning sites are scams. 
But ySense is a legit website that pays money to its users. It is a trusted website, so you can try it without any hesitation.
So before trying any sites double-check information and review it.
Q.2) Is ySense safe?
Yes, ySense is safe to use. It is one of the old and trusted websites in this field.
Q.3) Is Clixsense and ySense same?
Don't get confused. ySense is formerly known as Clixsense. In August 2019 they changed the name to ySense.
Q.3) Does ySense work in India?
Yes, ySense is available to work in India. Not only in India, but it also works in most countries.
Q.4) How can I get more surveys on ySense?
You need to up to date your profile to get more and more surveys. Try to complete surveys daily to earn more.
Q.5) Does ySense pay through PayPal?
Yeah, ySense Pay Through PayPal. Along with PayPal, there are many cashout options available.
 Q.6) Is there any fees to join ySense?
No there's no fee to join ySense. Never pay money to join such websites. If any website asks for money, it might be a scam.
Conclusion
I hope that now you can decide if ySense is good for you or not.
There are many online money-earning websites out there on the web. But trust many of the websites are fake. They didn't pay money or stop paying after a few payments.
I must say ySense is good money-earning website. You can make a good amount of money by doing micro tasks from the comfort of your home.
There are many ways to earn money on ySense. I will definitely encourage you to join the ySense website.
I am repeating there are many scam websites. Never pay money to those scam websites to join.
If you have any doubt about any website let me know in the comment section. I will try my best to clear your doubts.
Happy Earning…