Are you looking for a Zebpay referral code? If yes here it is.
But do you know you can get Free Rs.100 cashback in your ZebPay wallet?
If you didn't know today you will learn how you can get 100 free cashback on ZebPay.
Earlier I have shared some crypto exchanges about their program. Now it's time to share about one of the most popular crypto exchange platforms.
Two-thirds of crypto investors in India started their crypto investing through ZebPay. You can see it's a well-known and good crypto exchange platform.
I am going to share step by step guide to earn free Rs.100.
Let's get started…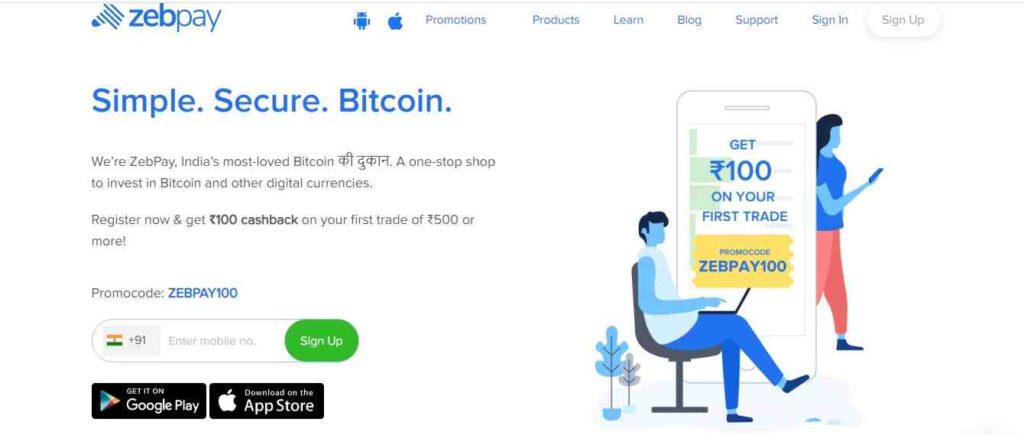 What is ZebPay
ZebPay is a crypto exchange platform. Now it has over 5 million users.
The crypto exchange has been featured on CNBC, Business Insider, Entrepreneur, Inc24, The Economics, Forbes, Live Mint, Bitcoin.org, and many more.
ZebPay App Download
The ZebPay app is available on Google Play Store and Apple Apple Store. Just go to Play Store or Apple Store and download the app.
As it is available on the Play Store no need to download the ZebPay APK from any third-party site.
You can access it through its site as well.
How To Sign Up & Complete KYC
You need to complete the registration process and KYC verification.
Requirement:
Mobile number
Email ID
PAN Card
Any Identity Card. You can use Aadhaar, Driving Licence, Voter ID Card.
The process is simple and easy.
#1 Step: First of all, you need to install the ZebPay app, if you haven't already.
#2 Step: Enter your mobile number and verify it.
#3 Step: Set a 4 digit secure PIN.
#4 Step: Tap on the menu and then tap on Edit Profile.
#5 Step: Now enter your Name & Email ID. Make sure you verify your Mail ID.
#6 Step: Tap on the Referrals/Promo option. Enter ZebPay promo code ZEBPAY100.
#7 Step: To complete your verification KYC tap on Verify Identity(KYC),.
#8 Step: Upload your PAN and Aadhaar Card or any other identity document.
#9 Step: On the Self Declaration, select if you are salaried or self-employed.
#10 Step: Once you submit these details it will 5 minutes to complete KYC.
#11 Step: Congrats! You have completed registration and KYC.
#12 Step: Now add your bank on ZebPay.
Other crypto exchange platforms.
How To Get Free Rs.100 On ZebPay
Once you completed the registration and KYC verification, you can proceed to get free Rs.100.
Just follow the steps.
Just open the app and tap on Dashboard.
Now tap on "Deposit" and select UPI as a payment option for instant deposit.
Enter an amount of Rs.500 or more.
Make the payment and add funds to your wallet.
Now buy any crypto worth Rs.500 or more.
You will receive Rs.100 in your ZebPay wallet. It can take up to 7 days to credit the cashback.
Once you receive the cashback, just sell the crypto. After selling that crypto you will receive Rs.500 in your bank account.
Wanna earn money without doing anything, check out Honeygain – Sign Up & Get Free $5.
ZebPay Refer and Earn
You can earn 50% trading of your referee's fees.
Let's say you refer ZebPay with your friends. When he/she uses your ZebPay referral code, you will get 50% of your friend's trading fees for 1 year.
Share your referral code for more ZebPay referral rewards.
Frequently Asked Questions

Is ZebPay legal in India?
Yeah, it is legal in India.
How do I find my ZebPay referral code?
Once you are logged in to your ZebPay, just tap on My Account>Referrals. Here you can see your ZebPay referral code.
Can I add funds using UPI?
Yes, you can add.
What are the deposits and withdrawal fees?
No deposit fees for FIAT & Crypto
No withdrawal fees for FIAT
Conclusion
ZebPay is one of the most popular crypto exchange platforms. You can use it to buy cryptocurrencies like Bitcoin, Ethereum, Litcoin, and many more.
You can sell Rs.500 worth of crypto, or you can also hold it.
Disclaimer: I am not a Crypto expert. Invest your money at your own risk. Do your own research before investing your hard-earned money.