You're on a road trip and the wind is rushing through your hair.
Suddenly, you glance at your fuel gauge and realize you need to refill.
But you can't see any petrol pump nearby.
Gone are the days of driving around aimlessly or relying solely on luck.
Now you can find nearby petrol pumps in just a few clicks.
And then you put out your phone and Google for "Petrol pump near me?
Now you are here.
You are in the right place.
In this post, I'm going to share multiple ways to get find a nearby petrol pump.
Let's get started.
Petrol Pump Near Me – Find Nearby Petrol Pump Using Google Maps
Undoubtedly Google Maps is the best tool to find any place including petrol pumps.
It's not just an app that shows direction but it can help to find places.
Here are the steps to find a nearby petrol pump.
First of all, Open the Google Map app.
Now type "Petrol pump near me".
You will get a list of petrol pumps near you.
You can see the address. Tap on your nearest petrol pump.
Now just tap on the arrow to get directions.
Find an IndianOil Petrol Pump Using the IndianOil Pump Locator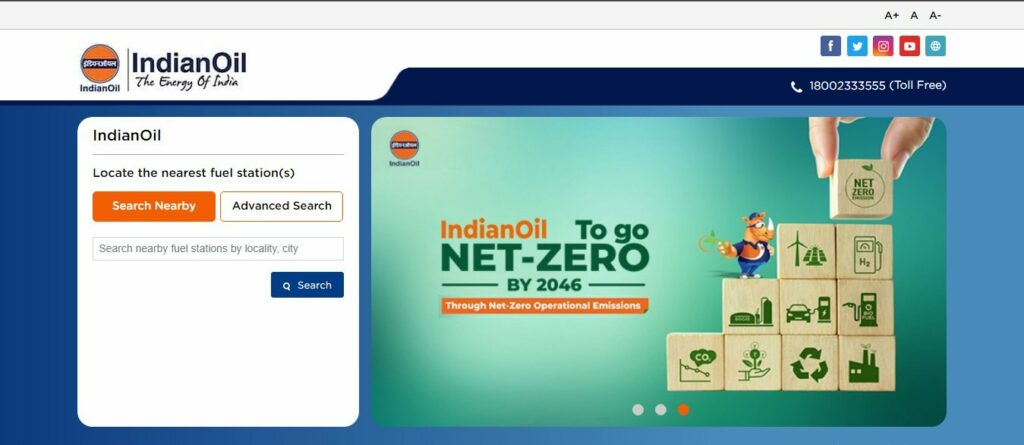 Many people prefer to use a particular company to fill petrol.
In that case, many companies have a petrol pump locator tool on their website.
Here's how you can use the tool.
First, Open the IndiaOil Petrol Pump locator page.
Now you can use the nearby search or advanced search.
If you are using nearby searching, enter your location.
Tap on the search button.
If you can't see any petrol pumps. You can use the Advanced search.
To use it, Tap on Advanced Search.
Now enter State, City, Locality, and Radius.
Tap on the search button.
It will show you the nearby IndianOil Petrol Pumps.
You can click on the Map option to get directions.
Find HP Petrol Pump Using HP Pump Locator
HP is another oil company in India. And It has a similar tool to find a petrol pump.
First, Go to the HP Page.
You can use On Route, On Highway, or In District options to find an HP petrol station.
I am showing with the On Route option. Tap on the On Route option.
Enter the Source, Destination, and Distance from Route.
Complete the Captcha verification and Tap on the Go button.
You can see the petrol pumps on the map.
Check out –
Conclusion
Finding petrol pumps nearby doesn't have to be a daunting task anymore.
This is a guide to finding your nearby petrol pumps. I hope this guide will help you.