Are you looking for a detailed guide about the Dream11 app download? If so then you are in the perfect post.
You're reading this post because you want to play fantasy sports and earn money from them. Now so many people playing fantasy sports from their smartphones and earning money.
To play fantasy sports, you need a good fantasy app.
There are many fantasy sports apps out there. Today I am going to share information about India's most popular fantasy sports platform Dream11 app. It is India's first gaming Unicorn.
Dream11 is the most popular and reputed fantasy sport. Many of its users are making real money for playing fantasy sports.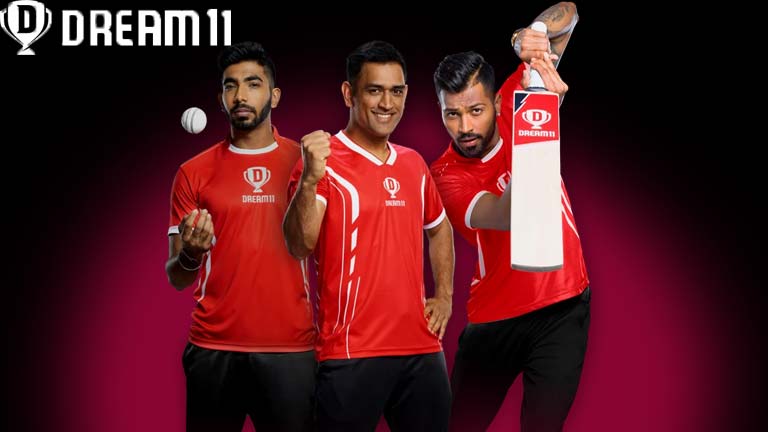 Today I am going to share a step-by-step guide to get started with Draem11.
How to install Dream11
How to sign up on Dream11
Dream11 APK Download
How to play fantasy on Dream11
How to withdraw winning money on Dream11
Let's get started…
What is the Dream11 App?
Dream11 App is a fantasy sports app in India. Where you can play fantasy sports (Cricket, Football, Basketball, Hockey, and Kabaddi) and earn money from it.
According to Wikipedia Dream11 is India's biggest fantasy sports app.
Now it has 12 crores+ users in India. Can you imagine 12 crores? it's a huge number. And the number is increasing day by day.
Do you know who is the brand ambassador to Dream11?
The one and only M.S Dhoni is the brand ambassador.
It was founded by Harsh Jain & Bhavit Sheth In 2008.
Download MPL Pro App to earn money by playing fantasy cricket and other games.
Dream11 App Download
Dream11 app works really nicely. I mean all the features work smoothly.
Dream11 is available on both platforms iOS and Android. It doesn't matter if you are using an Android device or an Apple device.
Although the Dream11 is much popular app. It is not available in the Google Play Store due to some policy. Google doesn't allow cash contest apps.
Don't worry I am going to share the Dream11 APK download link. Just visit the site download the Dream11 APK latest version.
But if you are using an iPhone, then you can download it from Apple App Store. For Dream11 app download latest version on iOS, Just head over to Apple App Store and search "Dream11". Simply install the app.
Read Also: My11Circle Fantasy App
How To Install & Sign Up Dream11 Dream11 APK
I am showing how you can install the Dream11 APK on your smartphone and sign up on it.
Step 1 – First of all, click this button and download Dream11 APK.
Step 2 – Click on Download App.
Step 3 – Now enable installation from unknown sources by visiting your phone's Settings-Security.
Step 4 – Then install the app just like you install other APKs.
Step 5 – Open the app and enter your details like mobile number, Email address, and password. Once you filled all the details just hut the red Register button.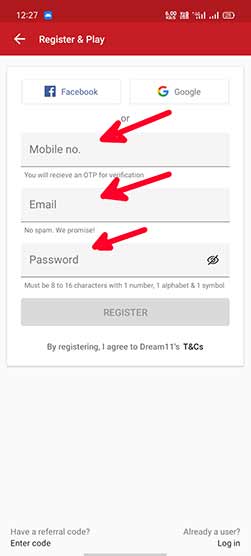 Step 6 – Now verify your mobile number by entering the OTP that you have received oin your mobile number.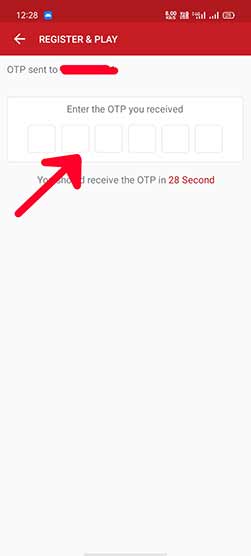 The registration process is completed. Now you can start play fanatsy sports. The registration process will be same on iOS as well.
Check out more money-earning apps to earn even more money.
How To Play Fantays Sports On Dream11
Let's see how to play fantasy sports on Dream11.
Select a Match.
Choose a contest according to your budget.
Create your team.
Track players perfomance.
How To Create A Team Dream11
There are various fantasy sports available like Cricket, Football, Basketball, Hockey, Handball, Baseball. Dream11 cricket is the most popular game on the platform. Mostly it is known for the fantasy cricket app.
You have to make your Dream11 team to play fantasy sports. Let's see how to play Dream11.
Step 1 – Open the app.
Step 2 – Select a match and tap on CREATE TEAM.
Step 3 – Now select your players and tap on Continue.
Step 4 – Select a captain and vice-captain.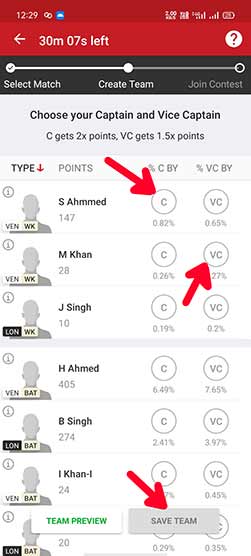 Step 5 – Now you have to enter your Date Of Birth and State.
Step 6 – Tap on Go Ahead.
Step 7 – You've created your first team on Dream11.
Read Also: Big Cash App – Play Games and Fanatsy Sports
How To Add Cash To Dream11
You need to add money to play and earn. You can look for the coupon code to get some cashback and offers. There are multiple payment options available.
Now let's see how you can add cash to play fantasy sports.
First of all, Open the app and tap on the wallet icon.
Now enter your desired amount and tap on Add.
Then choose your payment method.
You can pay with Google Pay, Phonepe, Amazon, Mobikwik, Paytm, Debit/Credit card, and Net Banking.
Now finally make the payment.
You have successfully added cash to your Dream11 wallet.
Winzo Gold App is another gaming App in which you can earn Paytm cash by playing simple games.
Dream11 Refer and Earn
You can earn up to Rs.500 for each successful referral. When someone registers using your Dream11 referral code, you get 10% of your referee's add cash amount.
Let's say your friend adds cash of Rs.500. You will get Rs.50 bonus. Every time your friend add cash to their wallet, you will get 10% of that amount. The maximum amount you can earn per referral is Rs.500.
Here's how you can refer this app.
First, open the and tap Profile.
Now tap on Collect ₹500.
Here you can see the referral reward offer.
Share your referral code with your friends.
Wanna earn free Paytm cash by playing Ludo? Download ludo supreme gold for the same.
How To Withdraw Your Earnings From Dream11
The Dream11 minimum withdrawal amount is Rs.50. After playing fantasy sports, you can earn this amount easily.
But to withdraw your earnings you need to verify your Email Address, Bank Account and PAN Card. Here are the steps to verify.
First, tap on My Balance.
Here you will see Verify. Just tap on that button.
Now verify Email Address, PAN Card, and Bank Account one by one.
Once you verified all these. You will be able to withdraw your earnings.
Just visit to My Balance and tap on Withdraw.
Enter the amount that you want to withdraw.
Finally tap on Confirm.
Download the Rozdhan app to earn Paytm cash by completing simple tasks.
How To Change Bank Account in Dream11?
Here are the steps of changing Bank Account.
Open the Dream11 app and tap My Balance.
Tap on Withdraw. Now tap on Change it will ask to remove the account.
Now enter your new bank account and tap on Update.
You have successfully added the bank account.
How To Download Dream11 On PC?
You can use the Dream11 app on your PC. To use Android apps on your PC you need to install software on your PC.
Just Google for Best Emulator For PC. Download any emulator. An emulator can be used for both OS Windows and Mac. You can use BlueStacks emulator. Once you installed the BlueStacks, you can install Android app on your PC.
Now download Dream11 APK from the above link.
Import the APK to the emulator. Install the APK on the emulator. Enjoy Dream11 on your PC.
You can use an emulator like
BlueStacks
Gameloop
LDPlayer
MEmu Play
Nox Player
Genymotion
Dream11 Mod APK Download
Search for "Dream11 Mod APK" on Google and YouTube. And you will find a lot of results. Do want to know the truth, most of them are fake. Even some of them can harm your device and steal your precious data.
Dream11 is using a very good server. So it will be very hard to hack into their system.
If you find the Dream11 hack it will be useless for you. Yes, I am serious. Dream11 App will ban your account if you try any hack or mod APK.
So I never suggest you try any kind of mod APK to earn money. I only share genuine apps to earn money. You can trust this blog blindly.
Read Also: EWar App – Play Games & Earn Money
Dream11 Pros & Cons
Let's take a look the pros and cons of Dream11.
Pros:
Impressive User Interface(UI).
Good referral bonus. You can earn upto Rs.500 per referral.
Minimum withdrawal amount is Rs.50.
India's No.1 fanatsy app.
Cons:
Competition is high.
The app is not
General FAQs
Is Dream11 app real or fake?
Dream11 is a real and genuine app. This app is genuine and pays money to its customers. So you can try this app.
Is Dream11 banned?
Dream11 is not banned in India. But it is available in some states due to some reason.
Can I have multiple accounts on Dream11 app?
No, the Dream11 app only allows 1 account per person. It is strictly prohibited to have multiple accounts.
Is Dream11 on Play Store?
No, It is not available on the Play Store. You can download it from their website.
Is Dream11 available on iOS?
Yeah, It is available on iOS. Just go to Apple App Store and search for Dream11.
How can I download Dream11 on Android?
Just head over to dream11.com and download the APK. Once you downloaded the APK. Install it.
How do I withdraw my cash bonus?
You can't withdraw the bonus amount. It can be used for playing fantasy sports. You can only withdraw winning money.
Why is Dream11 not on Play Store?
Because Google doesn't allow cash contest apps.
Is Dream11 an Indian company?
Yes, it is an Indian company.
Is Dream11 illegal?
No, it is not illegal.
Conclusion
Dream11 app is the most popular fantasy sport in India. There are multiple fantasy sports available. You can choose from Cricket, Football, Basketball, Hockey, Handball, and Baseball. Many people are earning lakhs of rupees from them. But don't think you can also make that much in your first attempt. So do not put all your money in one game.
First, start with a small amount and learn all the rules. Once you are confident about it, you can play big contests. As fantasy sports are skill-based, you need to acquire a skill set to play games.
Cricket is the most loved fantasy sport. Just choose your favorite game and start playing.
Let me know how much you earned through this app.