International Speed Post (EMS), offers a premium experience, ensuring both superior quality and timely transportation.
Want to know the International speed post charges?
Whether you're a small business owner or an individual looking to send a parcel overseas, knowing how to calculate International Speed Post charges is essential.
In this post, I'm going to share all the details about International charges.
Let's get started.

What is International Speed Post (EMS)
International Speed Post (EMS) is a premium international mail service offered by India Post. It is a reliable and convenient way to send packages and documents to over 200 countries and territories worldwide.
EMS provides a trustworthy option for individuals and businesses looking to send items internationally.
Features
Here are some features of the International Speed Post (EMS).
Fast delivery: EMS guarantees delivery within 4-10 business days.
Online Tracking.
The maximum weight limit for shipment is 35 KG.
Security
How Are Speed Post Charges Calculated?
You might wonder how India Post calculates the chargers.
Here are some factors that determine the charges.
Weight and Size of the Shipment
Destination Country
Distance
Speed of Delivery
Additional Services
International Speed Post Charges
India Post shared a big chart for their charges.
You can take a look at the Post Office International parcel rates on the India Post portal.
Read similar articles –
How To Calculate International Speed Post Charges
Before you send any parcel internationally, you must calculate the charges.
Here's how you can use the International Speed Post charges calculator.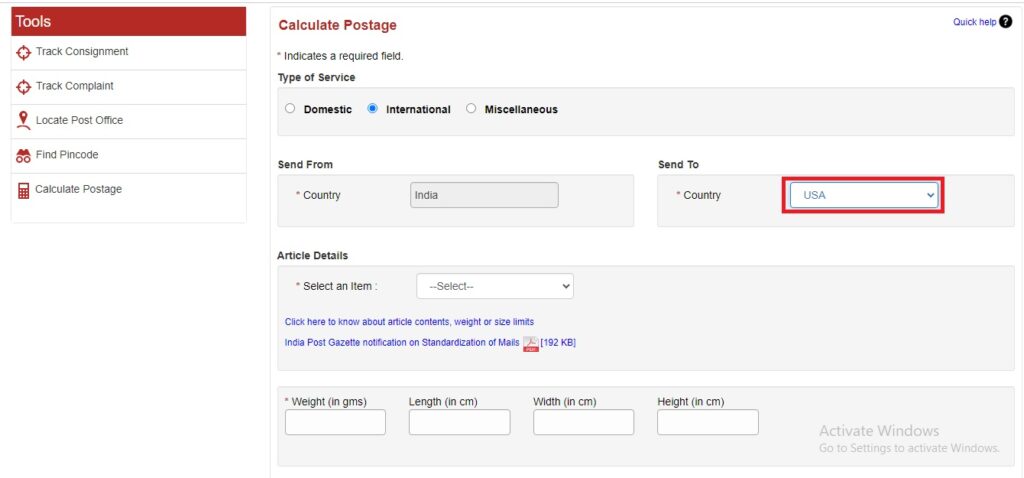 Select the Article Details.
Enter Weight, Length, Height, Width, and Height.
Choose the article type. Click on the "Get Available Services" button.

It will show you the available service. Choose your preferred service.
You can add any additional services.
Click on the "Get Price" button.
You can see the final total amount.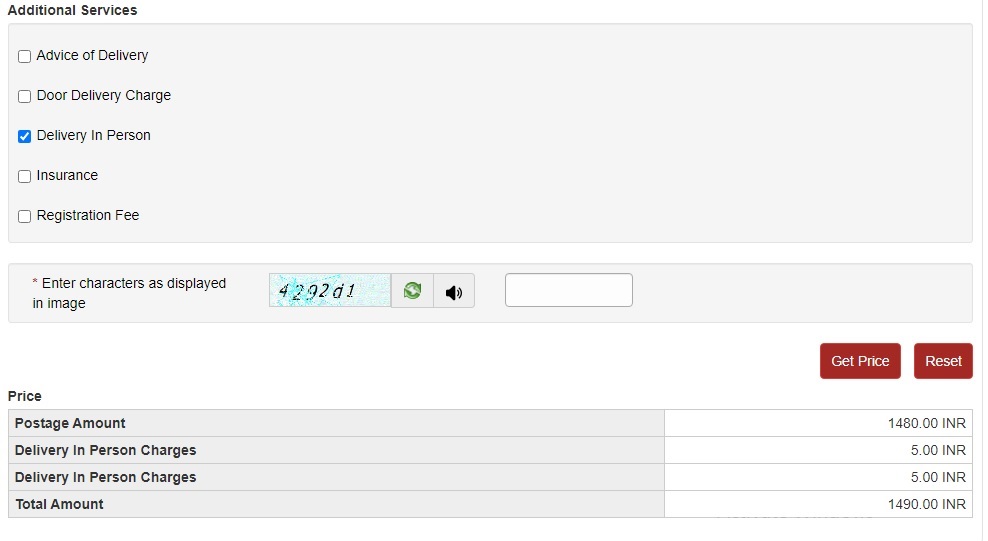 How much does speed post cost internationally?
I've shared all the details in this post.
What is the maximum weight for an international speed post?
It allows a maximum of 35 KG.
What is the cost of speed post from India to the USA?
It depends on multiple factors. You can check the cost using the calculator.
Does Indian Speed Post deliver internationally?
Yes, they do ship internationally.
Is India Post safe for the international courier?
What documents are required for international speed posts?
You can use Aadhaar Card, Driving Licence, Passport, Voter ID, etc.
Does speed post travel by air?
Yes, they use to travel when required, especially for international parcels.
Conclusion
I hope this post will help you to understand India Post International postal charges.
Understanding International Speed Post charges is essential for individuals and businesses seeking to send parcels across borders. By considering factors such as weight, dimensions, destination, and additional services, you can determine the cost of shipping.