Sun Crypto Referral code is – 154806
Today I am back with another crypto exchange platform called Sun Crypto. You can trade 30+ cryptocurrencies including Bitcoin.
You will get free Bitcoin (BTC) worth ₹50 on the Sun Crypto app. You just need to enter this referral code for Sun Crypto App – 154806.
There are many crypto exchanges platform. Some of them are offering FREE crypto through refer and earn program. I hope you have looted from them. If not then check on this blog, I have shared some apps that are giving FREE crypto.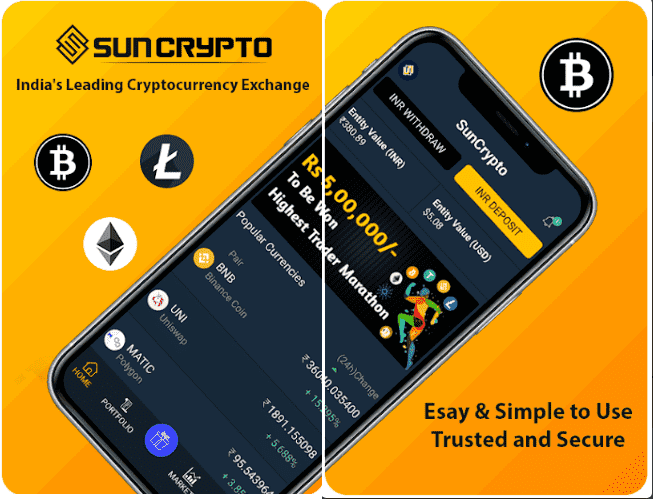 In this post, I am going to share how you can get free Bitcoin On Sun Crypto and how you can withdraw the rewards.
Let's get started…
How To Sign Up Using Referral Code & Get Free BTC ₹50 Worth?
To receive the ₹50 bonus, you have to register and complete KYC. Don't worry I am going to share all the steps to get Free BTC worth ₹50 on Sun Crypto using the referral code.
First of all, you need to download the app.
Now tap on "Register".
Enter your Name, Mobile Number, and Emai ID. Set Password and MPIN.
Make sure you enter this Sun Crypto referral code – 154806 to receive a bonus of ₹50.
Verify your Mobile Number and Email ID. You will receive OTP on both Mobile Number and Email. Just enter the OTPs to verify.
You have completed the registration process.
Now you need to complete KYC.
Login to your Sun Crypto account and tap on Profile.
Tap on the "Manage KYC" option.
Now tap on PAN Card, enter your Name, DOB, & PAN Card number. Upload a photo of your PAN Card.
Then you have to choose any identity card. You can use Aadhaar Card as well. Upload the document of both sides.
Take a selfie and upload it.
Again go to "Profile" and enter your bank details. They will verify your bank account by depositing ₹1.
Your KYC is completed.
Hurray! Now you can see FREE BTC worth ₹50 in your Sun Crypto wallet.
I will share you can withdraw the amount to your Bank Account.
Here are some other crypto apps that are paying good referral rewards.
Sun Crypto Baby Doge Coin Airdrop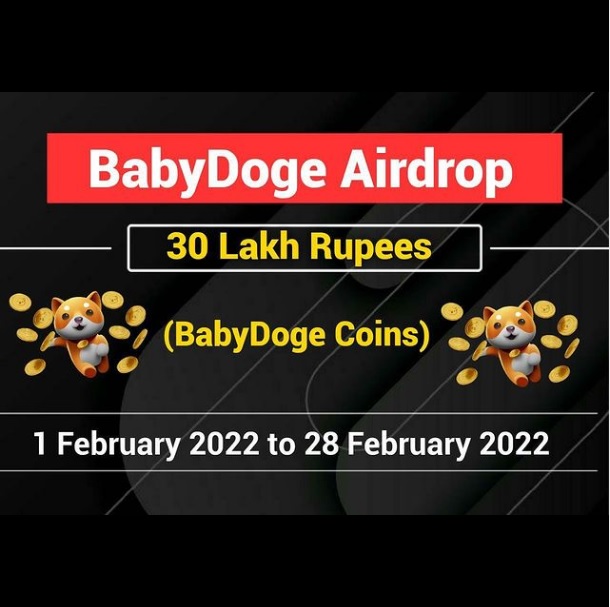 To qualify for this Airdrop, you have to trade Rs.2500 INR or more between 01 February 2022 to 28 February 2022.
You can trade any crypto token (BTC, ETH, LTC, etc.) worth Rs.2500.
Total Rs.30 Lakh Baby Doge tokens will be distributed on 05th March.
Make sure you have already completed KYC.
Sun Crypto App Download
The Sun Crypto app is available on the Play Store. So you don't have to Sun Crypto APK download from any third-party sites.
It is also available for iOS, if you are an iPhone user, just head over to Apple App Store and download it.
Wanna invest in US Stocks check out INDmoney, You can get free stocks.
Sun Crypto Refer and Earn
With the Sun Crypto referral program, you can earn ₹50 per referral. You will get a BTC worth ₹50. Don't worry you can withdraw the money to your bank account. When you refer this app to your friend make sure he/she completes KYC and do his/her first trade. If the friend doesn't trade you will not get the FREE Bitcoin (BTC). Tell your friend to trade, so both of you can get referral benefits.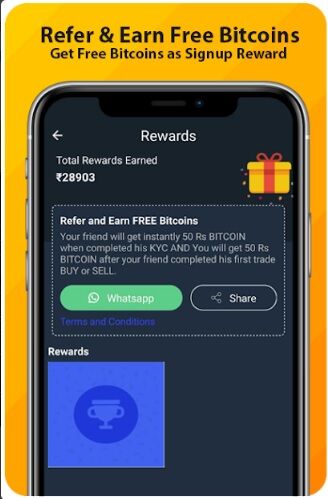 Log in to the app with sun crypto login details and tap on the "Blue Gift.
Here you can see your referral code.
Just share your Sun app Crypto referral code with as many people as you can.
Read Also: Upstox is paying Rs.1200 Per Referral.
How To Deposit Money On Sun Crypto
You can deposit money through UPI, MobiKwik, Bank Transfer. You will be charged Rs.10 per UPI transaction.
I will you to use MobiKwik to add money. It charges 2% per transaction.
If you are not using MobiKwik, here's a detailed post about how to open a MobiKwik account.
Here are the steps to deposit money on Sun Crypto.
Just open the app and tap on INR Deposit.
Now tap on Deposit.
Enter the amount you want to deposits.
Choose your paymnet method.
Now make the payment.
How To Withdraw From Sun Crypto App
You can withdraw the BTC to your bank account. To withdraw your BTC, you need to load money and trade (Buy & Sell) crypto. No worry you can do it with as low as Rs.100.
#1 Step: First, you need to load your money into your wallet. You can add ₹100 to your wallet via the UPI payment method. There's no charge for depositing money via UPI.
#2 Step: Now buy Bitcoin of your desired amount. You can buy any other crypto rather than Bitcoin.
#3 Step: Then sell the BTC and the money will be credited into your account.
General FAQ
What is Sun Crypto?
Sun Crypto is a crypto exchange platform in India. You can trade over 30 cryptocurrencies on this platform.
Can I withdraw my sign-up bonus of free Bitcoin?
Yes, You can withdraw the bonus. Just follow the above steps to withdraw your money.
Is it Sun Crypto app safe?
Yeah, it is safe.
What is the minimum deposit on Sub Crypto?
The minimum deposit is Rs.100.
Is the Sun crypto a scam?
Not at all, it's not a scam. The platform is legit.
Where to enter the Sun Crypto referral code?
You will be asked to enter the Sun Crypto refer code at the time of signing up.
Sun Crypto Referral Code Conclusion
Sun Crypto app is still not that much popular as other crypto exchange platforms. This is an advantage for you. How?
You can refer to this app with your friends and earn free BTC. If the app is popular enough then your friends might be already using that. But in this case, the app is still not much popular. You can share this app to earn more.
I hope now you know all the details about the app. If you need any help just comment down below.